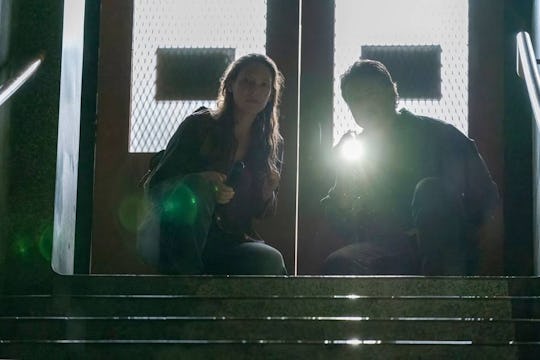 Liane Hentscher/HBO
The Last of Us Stays True To Its Video Game Roots
It's a post-apocalyptic road trip series.
The Last of Us on HBO Max follows a man and a teenage girl trying to make their way across the country in a post-apocalyptic world to fulfill an important mission. If the plot sounds familiar to you, there's a good reason for it. Because The Last of Us is based on an iconic video game beloved by millennial gamers the world over. Here's what else you need to know.
What is The Last of Us about?
Joel Miller (Pedro Pascal) is a tough survivor tasked with helping Ellie Williams (Bella Ramsey) escape from an oppressive quarantine zone 20 years after civilization as we know it has ended. Joel and Ellie need to get across the country to find a way to save the world, and this makes for a fairly brutal buddy road trip series. The pair come up against constant problems, from raiders in this horrible new world as well as the "infected," basically this particular version of zombies. Joel and 14-year-old Ellie don't have much in common, but along the way they need to rely on each other if they hope to survive.
The Last of Us is based on the classic Playstation video game.
The Last of Us is based on the Playstation video game by the same name that was first launched in 2013. Since its release, the storytelling game has received more than 200 Game of the Year awards not just for its impressive graphics, but also for its emotional storyline and amazing character development. Which naturally makes it a perfect fit for a television adaptation.
Breaking the video game adaptation "curse."
Early reviews of The Last of Us have critics saying that this version, and especially Pedro Pascal's performance as Joel, may have broken what they consider to be the video game adaptation "curse." Helped in part by director Neil Druckmann's insistance that this adaptation be as authentic to the video game as possible. It also doesn't hurt that the video game naturally lends itself to a visual storytelling medium. Or that we have all just lived through a pandemic and might watch something set in a post-apocalyptic world with new eyes.
How to watch The Last of Us.
The Last of Us premieres on HBO Max on Jan. 15, the perfect time to dive into a post-apocalyptic series. Especially if you played the video game and want a stroll down memory lane riddled with the Infected and Raiders.