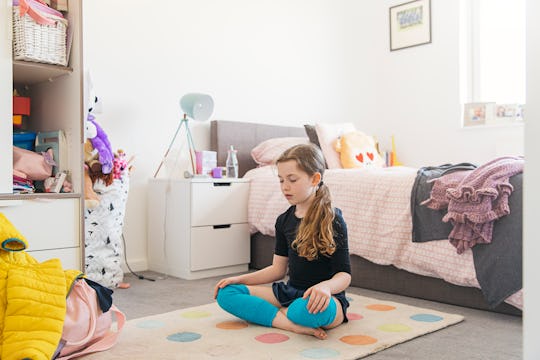 Justin Paget/DigitalVision/Getty Images
Chill Out Family Style With These 8 Meditation Apps For All Ages
Right now, things are tough for families as tension and stress continue to rise (and everyone is stuck in very close quarters). To help keep everyone's mental health in check, now is a great time to download some meditation apps for kids and families. A few minutes of mindfulness and deep breaths can do wonders for everyone, no matter their age.
Whether you are an introvert, extrovert, or somewhere in between, chances are good that you're not getting your battery fully recharged while you practice social distancing for COVID-19. The same is true for your little ones who likely miss their friends, want to go to their favorite play areas, and generally don't understand what's going on. Meditation and practicing mindfulness can benefit you all. Meditation helps adults "reduce negative emotions," increase "self awareness," and focus "on the present," according to the Mayo Clinic. It can be just as beneficial to kids, too, according to the American Academy of Pediatrics (AAP): The practice helps to ease children's feelings of anxiety, improve sleep, and generally calms the nervous system.
There are a lot of great apps to help parents, kids, and teens start practicing mindfulness and meditation. If it's something your family isn't already doing, now is the perfect time to give this technique a try. Here are eight popular apps to help you all get started.