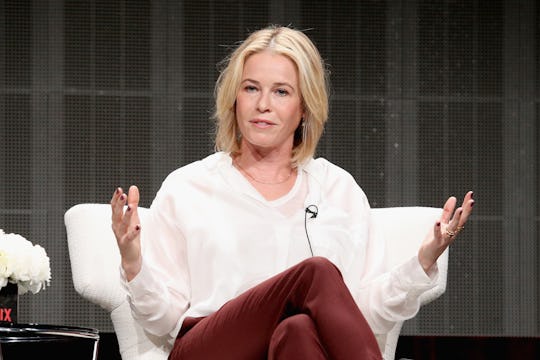 Frederick M. Brown/Getty Images Entertainment/Getty Images
10 Emotional Stages Of Wearing A Button Up Shirt When You've Got Big Boobs
I feel like I'm a mostly body positive person, and work hard to make sure I'm teaching body positivity to my children. Then, of course, there are the moments when I falter, usually moments facilitated by button up shirts. When I'm forced to deal with buttons (especially once I reach the point of attempting to contain my upper half) I'm filled with irrational emotions that, well, aren't necessarily body positive at all. The emotional stages of wearing a button up shirt when you've got big boobs is enough to make any body confident woman crumble into some sort of momentary emotional hole of self-doubt. I mean, those damn shirts do nothing but provide large breasted women with this weird slew of juxtaposing emotions that, well, kind of drive me crazy.
My cups runneth over, and I'm sure that if you're in the same specially-sized bra that I'm in, you can (and do) absolutely understand my pain. It's a pain that is typically controlled without medication or intervention, but when a button-up shirt comes into the picture it sort of sends a big busted girl like myself into various stages of rage and psychosis. I don't like to hate myself and work constantly to cultivate body positivity at every corner (and I'm not a glutton for punishment, especially the kind that stems from body image issues) so I'm not sure why I continue to try to wear a button-up shirt, even though my attempts to do so have been disastrous at best. The heart wants what it wants.
So, I'll keep trying to button up those damn shirts and laugh-crying my way through every popped button, thankful that I'm (at the very least) not alone in my big-busted struggle. Here are a few of the emotional stages women with big boobs go through when attempting to wear a button up shirt, because #Solidarity.