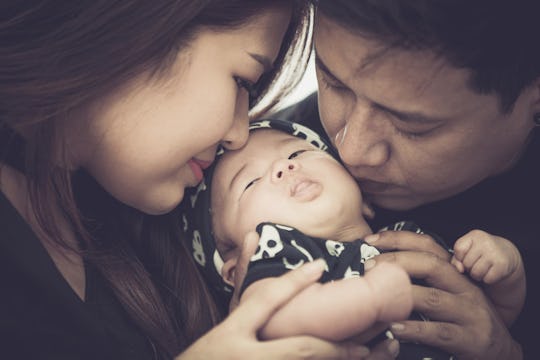 sirikorn/Fotolia
10 Low-Key Ways Your Partner Is Making Postpartum Life More Challenging
Being a new mom is hard. Every single day presents a new obstacle, like midnight feedings, sleep deprivation, and diaper blowouts. Fortunately, this phase doesn't last forever, and you'll eventually make it through relatively unscathed. Unfortunately, our partners often add more obstacles to the course along the way. There are actually several low-key ways your partner is probably making postpartum life more challenging, even if they have the best of intentions.
After having three babies, I feel pretty confident saying I'm pretty much an expert on recovering from childbirth. I've also made it through the postpartum days with two different partners, and learned how important it is to have a supportive person in your corner during the so-called fourth trimester. My first husband was not helpful at all. As a result, I couldn't really take care of myself and it was so much harder to care for my baby. In contrast, my current husband is an awesome dad and partner and he's made post-birth life exponentially easier than if he wasn't around. But if I'm being completely honest, he has made postpartum life more challenging at times, too.
I'm not talking about the big stuff, just to be clear. He was awesome at things like helping me breastfeed, bottle-feed, and pump, getting up with the baby in the middle of the night, and cooking dinner. But he did slip up in little ways that were impossible to ignore. They weren't so big that I felt the need to bring them up, but they definitely made my life harder. Things like cutting ahead of me in line for the shower (especially when I hadn't had a shower in a week), bringing me the wrong burrito, or stopping for an errand after work without letting me know, all took a toll and all added up. When I was trying to cope with sleep deprivation, an alien body, and a newborn who wouldn't stop crying, little things felt like big things.
So, if your partner is pregnant or a postpartum mom, you might want to read the following, just in case you want to avoid making the little mistakes that could make a trying time even more difficult: