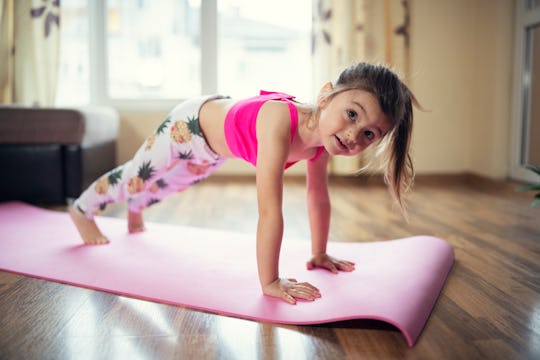 ArtistGNDphotography/E+/Getty Images
10 Online Exercise & Yoga Kid Classes To Make Up For P.E.
Keeping your kids inside all day during the coronavirus pandemic is easier said than done. While you may be able to get outdoors some, you will also want to have a few physical activities kids can do indoors on the agenda like online exercise videos and yoga practices for kids.
Kids need to move their bodies, get the wiggles out, and burn off some of that pent-up energy, especially if they're out of their normal daily routine. The Centers for Disease Control and Prevention (CDC) recommend that school-aged kids and adolescents get at least 60 minutes of vigorous exercise daily for the sake of their overall physical health and well-being. Although the CDC also now recommends practicing social distancing and staying home in order to prevent the spread of COVID-19, your kids can still get in plenty of exercise right in your living room thanks to an array of online exercise and yoga videos.
The need for kids to get up and move their bodies is a crucial part of every single day, and not just while you're cooped up at home together for the foreseeable future. This list of kids' exercise videos is also perfect for rainy days and snow days once the pandemic passes.