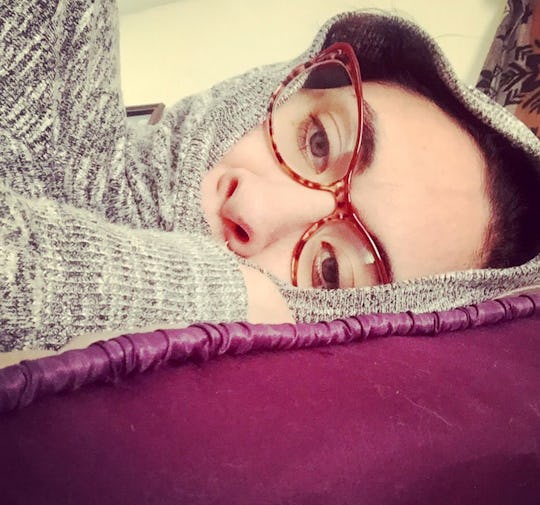 Candace Ganger
10 Painful Things People Don't Even Realize Postpartum Depression Entails
A lot of women with postpartum depression (PPD) either don't realize they have it, or don't come forward because the stigma surrounding a diagnosis is so strong. As if going through pregnancy, labor, and delivery aren't physically traumatizing enough, there's the impact it all has on the mental health of a new mom; an impact that's too often overlooked. I know, first hand, about the painful things people don't even realize postpartum depression entails. I've been there. In fact, my "there" was such a dark, desolate place, I'm lucky to still be here typing these words right now.
In the early days of new motherhood, my postpartum self lived in what felt like a foreign land found somewhere between reality and despair. While I tried to take ownership of my new role as "mom," my failures haunted me every waking moment of every single, exhausting day. I became so depressed that even though I still found a way to care for my daughter, I knew I wasn't giving her all of me. Instead, I was acutely aware that most of me was gone; rotting away somewhere, hidden and scared and alone.
Days, and weeks, and months passed. I wanted to be who I was before I became a mom, or even a better version of who I was so that my daughter would have the best of the best, but I felt like there was no place for me in this new world I had created for myself. Breastfeeding caused so much anxiety that it interfered with the bonding process, and even after going to a bottle it felt as though the damage had already been done. My thoughts spiraled into places I never hope to go again. I felt worthless, as if I was a disease to my new family and they would be better off without me.
I didn't realize until it was almost too late, but postpartum depression had overtaken my brain. It made me hallucinate reactions from others that weren't actually real. It forced me to feel things about myself, and my surroundings, that weren't true. It stole the woman I was and annihilated her until all that was left was an imprint of the past. Postpartum life, for me, felt like something of a slow death. I knew I was sinking but didn't know how to pull myself out, or even how to muster enough courage to ask for help. That's just one small fraction of postpartum depression that people don't seem to acknowledge or realize exists, which is why we, as a society, need to continue talking about postpartum depression. So, with that in mind, here some truly painful aspects of PPD: