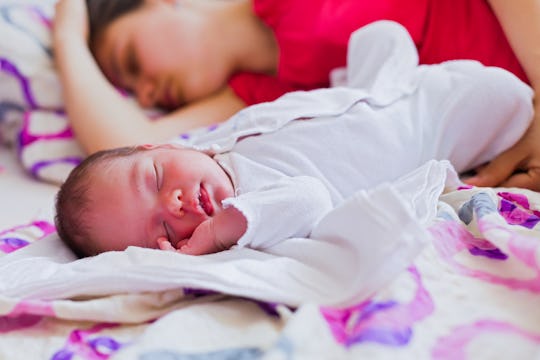 Sandor Kacso/Fotolia
10 Things Every Bed-Sharing Mom Thinks About When Her Baby Kicks Her In The Head
If I'm being honest I must admit that I love bed-sharing with my baby. They're still nursing at night and small enough that scooting them over (or straightening them out) doesn't disturb their sleep. I do remember when bed-sharing stopped being so lovely with my now 5-year-old son, though. Right around the time he started embedding his pointy appendages in my partner's rib cage and kicking me in the face, I had enough. I also had some choice thoughts running through your head whenever I was kicked in the head while bed-sharing. Every mom has her breaking point, my friends.
I have no judgment about the way other parents choose to bed-share, co-sleep, or sleep train. Bed-sharing just works for me and my family this time around. When it comes to making decisions about the way my partner and I parent our children, we try to listen to what our individual children truly need, temperamentally and emotionally. The more kids we choose to have, the more we think about what works best for the rest of the family while simultaneously catering to our individual children's needs because, well, every kid is different.
But what about when the thing that's been working for you, sucks? Because it does suck, the whole being kicked in the head thing. I must be honest, those are the inevitable bed-sharing moments I am dreading. And I know they're coming, sooner rather than later. So in an effort to prepare myself, I'll revisit the things every mom thinks about when their baby kicks them in the head while bed-sharing. At least we're all in this together, right?