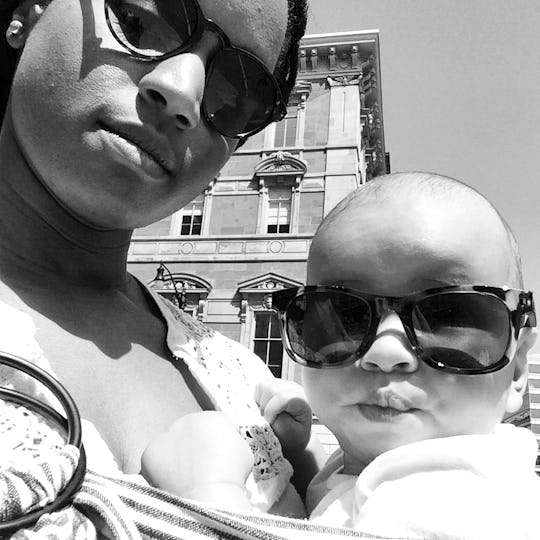 Courtesy of Sabrina Joy Stevens
10 Things Parents Raising Mutiracial Kids Would Love To Never Hear Again
Like a lot of multiracial children (and many children of color, more generally), my son was very fair-skinned when he was born. He was also bald,sans the tell-tale curly hair that many black-white multiracial children have. During our first trip to the library together, a woman stopped to comment on how cute he was. Then she looked at me and asked if I liked being his nanny (a question that sent my eyebrows straight up). So began my introduction to the world of annoying and offensive things people say to parents raising multiracial kids.
Part of me wanted to regale the aforementioned woman with all the goriest details of my home birth but, instead, I just rolled my eyes and said, "Actually, I'm his mother," before walking away. There is nothing wrong with being a nanny, but there is something wrong with erasing all of the hard emotional and physical labor I have put into bearing, birthing, and raising my child. There's something wrong with immediately assuming people of different races aren't a family, just because we don't match some narrow image of what people have arbitrarily decided a family looks like. There's definitely something wrong with asking strangers weird, intrusive, and/or presumptuous questions.
If we actually earn a place in another person's life by spending time with them, being respectful, being supportive, and being kind, we naturally learn things about their families, their heritage, and their personal history. To me, that's the most legitimate way to learn about other people. Unfortunately, a lot of passing strangers think it's perfectly OK to just pepper folks with questions out of idle curiosity. However, interrupting a family to accost them with annoying questions is an unwelcome intrusion into their lives. To my fellow multiracial families: here's hoping your next trip to the grocery store is free of questions and comments like these. To everyone else: if you're ever out talking with parents of multiracial kids, never say or ask any of the following. Seriously. Don't do it.