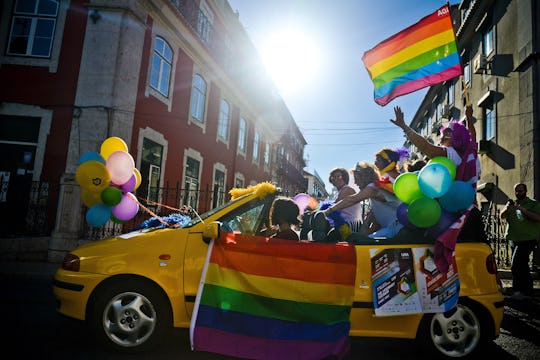 PATRICIA DE MELO MOREIRA/AFP/Getty Images
11 Poems For LGBTQ Pride Month To Inspire & Inform
It doesn't take much for equal rights supporters to get pumped up about LGBT Pride Month, but not all of your inspiration has to come from parades and rainbow flags. Picking up some of your favorite LGBTQ literature, like poems for LGBTQ Pride Month, can motivate you to get out there and celebrate, make a difference, and become an activist for the LGBTQ community.
It's been over a year since the historical decision was made by the Supreme Court to make gay marriage legal across the entire country, but your support for the LGBTQ community shouldn't stop there. With the tragedy in Orlando on June 12, it's becoming more and more obvious that there is still more work to be done when it comes to society fully accepting the LGBTQ community.
For hundreds of years, poems have been an outlet for those seeking to make a change, to vent their frustrations, and to share their stories. It's easy to ignore injustice when it's not happening directly to you, but pick up any of these 11 LGBTQ poems for Pride Month and you'll realize how important it is that the world continues to support this beautiful community. Reading the poets' words, feeling their heartache and anguish, and connecting with them through their words is the least you can do in your part as an activist for the LGBTQ community.