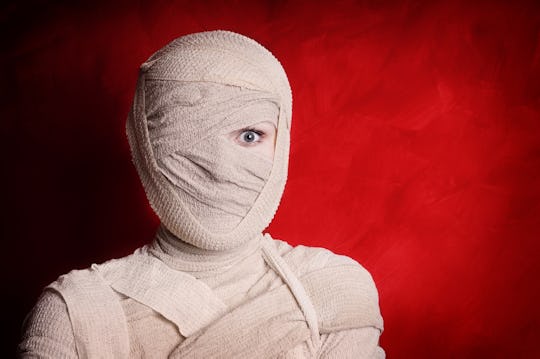 Axel Bueckert/Shutterstock
11 Punny Pregnancy Halloween Costumes That Are Actually Clever
Fall and pregnancy really are a match made in heaven. Aside from the fact that it's finally cooler and you will no longer be melting from the incessant summer heat, you have to admit that Halloween is the best holiday to be pregnant during, especially if you know how to rock some perfect punny pregnancy Halloween costumes.
The other very obvious reason Halloween and pregnancy are the best is the abundance of candy. If you're the type of person who craves sugar (literally everyone), then Halloween was made with you in mind. All of the candy goes on sale, too, so your wallet and your stomach will be happy.
But what no one tells you about Halloween-ing for two is that your potential for costume hilarity just expanded exponentially. There are so many silly euphemisms for pregnancy and new mom jokes sitting there just begging to be turned into your next Halloween costume. You can even get your significant other in on it and embark on your first family costume before your little one even knows what Halloween is.
Whatever you decide to do, you can't go wrong with a good pun. I can't guarantee that people will actually laugh at them, but you'll at least get a few eye rolls, and isn't that the mark of a truly well executed pun? Try one of these 11 punny pregnancy Halloween costumes and see for yourself.