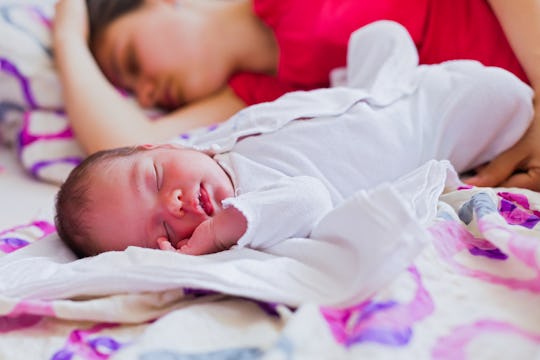 Fotolia
11 Weird Things Every Mom Does When She's Co-Sleeping
Co-sleeping is one of the (many) evergreen parenting controversies. As long as there are parents with babies, there will be controversy over where said baby should sleep. Some people love co-sleeping, while others feel it can be dangerous and, as a result, aren't willing to take the risk. Whatever your opinion, I think it's important to know there are a few weird things that every mom does when she's co-sleeping.
If you ever find yourself amongst a group of co-sleepers and you say something like, "And then I felt his toe in my nose," chances are ridiculously high that everyone will know exactly what you mean. When my son was a newborn, we had a lot of sleeping issues. And by "a lot," I mean absolutely all of them. In no time at all I found myself exhausted and desperate. I'd Googled "baby sleep problems" and "how to get baby to sleep" and "why won't my baby sleep, is he an alien?" so many times that every targeted ad that popped up on my computer was baby-sleep related. Then, as you might have already surmised, I found out about co-sleeping.
When I first started co-sleeping, I felt like I was blazing a new trail and doing something unexplored and "unheard of" because, to me, co-sleeping was this crazy new thing; nothing short of groundbreaking. I was such a noob. Co-sleeping has been around for as long as there have been babies, so it's safe to say it comes with a few universal truths, including the weird things every co-sleeping mom eventually does.