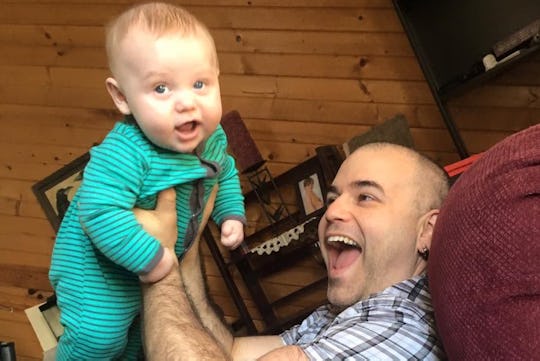 Courtesy of Steph Montgomery
12 Dads Reveal The One Thing They Wish They Knew Before Becoming Fathers
Being a parent is nothing like I had imagined it would be. Honestly, it's way more wonderful, terrifying, and gross than I expected. And this was after almost 30 years of "practice," with dolls and babysitting clients. After all, in our culture women are expected to procreate and, as a result, are handed dolls and toy kitchens at birth. Men, on the other hand, aren't, and often don't have as much practice or time to consider parenthood. Since hindsight is 20/20, I asked some some dads to share the one thing they wish they knew before becoming fathers, and I was honestly surprised by their answers.
More than a few of the following gentlemen got a bit emotional when they talked about what being a parent means to them. They had no idea how much they could love a tiny person. Others had no idea what babies were actually like, including how boring they are, but also how loud they can be and how hard it is to not know how to soothe them when they cry. Most had no idea how to remain calm and not allow yourself to panic when you feel like you have no idea what you are doing. In other words, the struggle is real, my friends, and it doesn't matter if you're a man or a woman. If you're a parent, sh*t gets real super quick.
If you are about to become a dad or know someone who is, read on for some silly, sappy, and sage-like advice from some dads who've been there. My advice, though? Be sure to grab some tissues before you settle in. And if you have sons, it might be time to buy them a doll (if you haven't already) and teach them a few things about parenthood. They just might thank you some day.