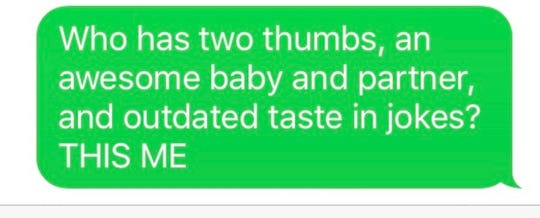 12 Texts Every Woman Sends Her BFF About Her Partner During Maternity Leave
It absolutely amazes me that people managed to raise babies in a time before smartphones. I can't even imagine going through the earliest weeks of nursing, when babies nurse round the clock for what feels like forever, without being able to chat with friends (and watch Netflix, of course). Moms couldn't take pictures of all the adorable things their babies did and moms actually had to get out of bed and make phone calls instead of sending those texts every mom sends her BFF about her partner during maternity leave (or really, the time after they had their babies, since the concept of "maternity leave" as a clearly-defined thing is still relatively new).
At the risk of stating the obvious, having a baby makes maintaining your relationship harder. At the same time, sharing the experience of parenting together can bring you and your partner closer than you've ever been before. The physical and emotional ups and downs and back and forth of this crazy, transitional time can be dizzying (even under the best of circumstances and for the "healthiest" of relationships).
That's why I'm so grateful for my phone and unlimited texting plans. (Yes, I remember when you had to pay per text, and hit the same button multiple times to get different letters and symbols and, yes, the fact that our kids are amazed by that — and by phones with cords — makes me feel old.) Even if you and your best friend have totally opposite schedules and can't necessarily talk every time you want to, you can still keep them up0-to-date on every last heart-warming, irritating thing that is happening with the occasionally unrecognizable relationship between yourself and your partner. That means they can still help keep you grounded when your head is everywhere but on straight. Insert praise hands emoji here.