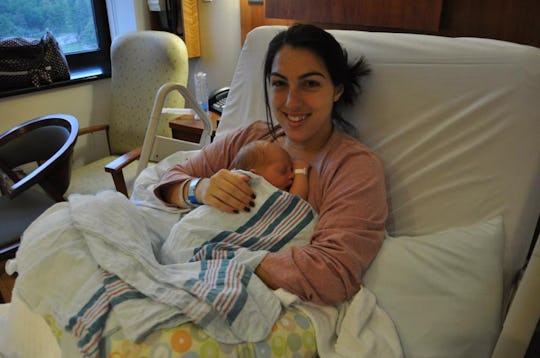 Photo courtesy of Jamie Kenney
12 Totally Normal Things About Childbirth Recovery You Don't Need To Worry About
If you're anything like me, by the time you're about to give birth you've read so much on babies and pregnancy that you feel like you should have some sort of honorary degree in obstetrics. But have you read up on the nitty gritty of postpartum recovery? Honestly, educating myself on what to expect from my own body after birth did not get the attention it deserved. So I encourage you to learn from my mistakes and differentiate between the normal things about childbirth recovery you don't need to worry about, and the things that warrant a call to your health care provider (or a visit to the ER).
It really comes down to the peace of mind you deserve. You've been carrying this baby around for 37 - 42 years or so. (What? Just weeks? That doesn't sound right to me. It definitely felt like at least five years.) Your body has been working overtime and the birth in and of itself is a damn ordeal. Getting to know what to expect when you're no longer expecting is a good head's up and, ultimately, can save you a lot of unnecessary panic or concern.
Plus, knowledge is power, y'all! And sometimes bodies are just so fun and weird that it's interesting to know this stuff even when it doesn't affect you (because, indeed, not all of this will).
"But Jamie," you say. "I don't have time to read any more books or know where to begin to learn about recovery after birth." Well don't worry, my newfound friend. I got you covered: