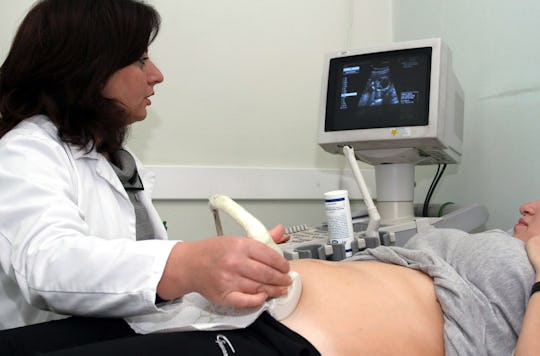 GENT SHKULLAKU/AFP/Getty Images
14 Thoughts Every New Mom Has During Her 20 Week Ultrasound
The one appointment that almost every pregnant woman actually looks forward to, is her 20 week ultrasound. The 20 week ultrasound is also known as the "anatomy scan," and it offers parents and physicians an up close and personal look at a baby's growth and development. It can be exciting and scary and nerve wracking all at the same time, and the thoughts every mom has during her 20 week ultrasound are typically confusing and unforgiving, causing what is usually unnecessary angst, especially if it's her first time.
20 week ultrasounds are typically a lot more interesting than the first ultrasound during pregnancy. They tend to last a lot longer, because their main purpose is to measure the growth and development of a baby's vital organs, and if your baby is cooperative, there's a good chance you could find out your baby's gender, too (if that's something you want to know). Though a lot of women go into the anatomy scan optimistic, and looking forward to seeing their babies, the 20 week ultrasound can be stressful sometimes, too, especially if you're not exactly sure what you're looking at.
If you're headed into your anatomy scan and you're wondering what to expect, here's 14 thoughts that go through every new mom's head during her 20 week ultrasound that could give you an accurate idea of what's in store. You're definitely not alone, your feelings are definitely valid and, eventually, the thoughts you have when you're looking at that black and white screen will be very, very normal.