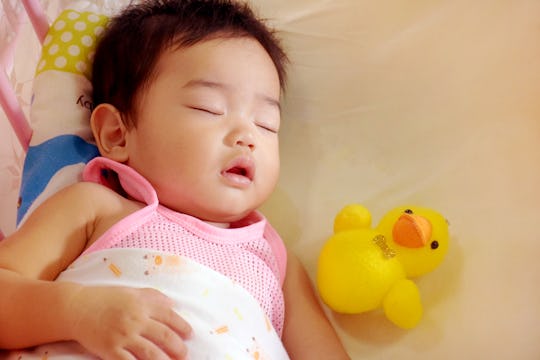 Shutterstock
These 15 Instagram Captions Are So Perfect For Your Angelic Sleeping Baby Pics
When you're expecting a baby, you look forward to the smiles, cuddles, milestones, and playtimes. When the baby actually arrives, you still look forward to all that... but you also find yourself counting the minutes till naptime and bedtime. The arrival of that golden time means you can exhale, grab your phone, snap a picture, and post a picture of your drowsy little one along with a caption for sleeping babies that perfectly captures the beauty, calm, and oh-thank-heavens-I-have-a-moment-to-myself delight every mom feels at this precious moment.
In theory, it seems so easy to parent a baby. After all, newborns sleep between 10 and 18 hours a day, according to the National Sleep Foundation; after that, most babies clock up to 12 hours a day of shut-eye. But because babies' sleep cycles are much shorter than those of adults, they shift from deep to light sleep more often, and they're more easily awakened. Just when you've put your darling child down for a nap and are trying to get something done, a passing car horn or a sound from the TV startles them, and you're back to rocking, shushing, and lullabies.
But no matter how challenging a day you've had with your tot — teething grumpiness, up-the-back poops, juggling a stroller and a shopping cart — all seems right again when they're finally down for the night. For those times, choose from one of these captions for your photo (along with the #sleepingbaby hashtag, if you like), and watch your family and friends send you more hearts than you'll see at the Hallmark card aisle on Valentine's Day.