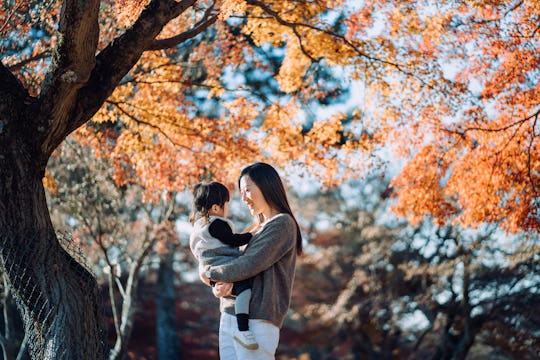 d3sign/Moment/Getty Images
15 Fall Equinox Traditions To Start With Your Family
The "Fall Equinox" goes by many names, depending on your family's culture and lifestyle. There's the Autumnal Equinox, the First Day of Fall, and if you're Pagan, it's Mabon. Regardless of what you call it, it's fun to come up with Fall Equinox traditions to start with your family. I'll take any excuse to do fun themed activities and enjoy special food and drink to be honest, and the Fall Equinox is definitely a good time to partake.
In 2020, the Fall Equinox falls on September 22, according to The Old Farmer's Almanac website. This is the official start of fall in the Northern Hemisphere, and "it occurs at the same moment worldwide," per the Almanac. It's called an "Equinox" from Latin meaning "equal" and "nox" meaning "night," and the length of daylight and length of darkness at night are equal on this day.
The Old Farmer's Almanac website noted, "During the equinox, the Sun crosses what we call the 'celestial equator' — an imaginary extension of Earth's equator line into space. The equinox occurs precisely when the Sun's center passes through this line. When the Sun crosses the equator from north to south, this marks the autumnal equinox; when it crosses from south to north, this marks the vernal equinox."
Starting on this day, the sun will begin to rise later in the day, and darkness comes sooner, that is until the Winter Solstice, when the opposite occurs — which you can also celebrate as the return to light.
And if you're Pagan, the lore surrounding this special day is to treat it almost like the holiday Thanksgiving, according to learnreligions.com. "For many Pagan and Wiccan traditions, it's a time of giving thanks for the things we have, whether it's having abundant crops or other blessings," the website notes. "It's a time of plenty, of gratitude, and of sharing our abundance with those less fortunate."
No matter how you celebrate, there are a lot of fun activities and traditions you can start with your family.