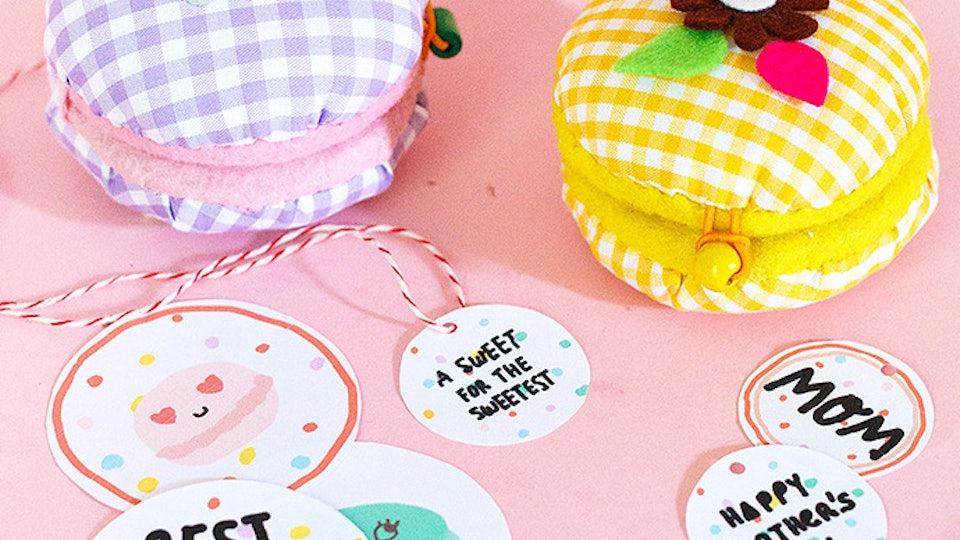 Courtesy of Handmade Charlotte
15 Last-Minute DIY Mother's Day 2017 Gifts That Look Like You've Been Planning For Months
Every since I was a kid, I've loved gifting my mom with handmade cards and trinkets for Mother's Day. I'm not sure if it's because I felt that crafted gifts meant more than a purchased gift or because it was all that I could afford back then, but I enjoyed it and I know she did too. Now, even though my budget has increased, my time for shopping has decreased and quick crafting has become a saving grace for gifting options. So for me, having a list of last-minute DIY Mother's Day gifts for mom that I know my mom will enjoy makes life so much easier.
Giving a handmade item has become ever more special since my sister became a mom, especially since she loves to craft too. What's even more enjoyable is getting my niece in on the fun. Though I'm kind of picky on the types of crafting I do, it's always fun to try new things and see the love in my mom and sister's eyes when they receive their gifts.
So, if you're looking for a unique, last-minute gift to give mom this Mother's Day, try making it yourself. And, if you need some ideas of what you can create, check out these 15 items to give an attempt to.
1

Instagram Mini Canvases
2

Photo Keepsake
A few years ago for Mother's Day, my siblings and I decided to put together a photo box for her with pictures of us throughout the years. Though we purchased the box from Michael's, this photo cube tutorial from The Scrap Shoppe is a great alternative.
3

Geometric Color Block Pillows
4

Canvas Portraits
Over the last few years, my sister has become a Pinterest maniac. Her latest project included making canvas portraits to match the look she wanted in her bathroom. Equipped with a blank canvas, stencils, and paint, she was able to nail the look. Try checking out this bathroom painting project tutorial from Snap. Eat. Run. to get some details.
5

Edible Glitter Chocolate Bars
6

Marble Monogram
Get super crafty with your gift this year with this marble monogram tutorial from A Little Craft In Your Day. There's no way mom won't love it.
7

Glass Nightlight
Though I used this glass nightlight as an idea for baby showers, it's a terrific option for a Mother's Day gift, too. Just grab a glass block from your local craft store, and decorate how you please. To turn this into a nightlight, purchase a light cord and a small lightbulb. And, just like that, you've created a memorable and glowing gift. Check out this great DIY night light tutorial from Artsy-Fartsy Mama for detailed info.
8

DIY Candle Holder
If you want to add a little pizazz to your candle holder gift, grab some spray paint and sticker letters. Lay the stickers out in the design you want, spray paint over them and let dry. After the paint dries, peel the stickers off to see your gorgeous design.
9

DIY Notebooks
Whether for the grocery list or for little reminders, you mom is sure to appreciate these DIY notebooks from Paper & Stitch.
10

Peruvian Market Tote
Every mom could use a big tote bag and this stylish DIY Peruvian market tote from Hands Occupied would be a great option to gift.
11

Marble Mugs
DIY Candy's marble mug tutorial is the perfect Mother's Day gift for any mom who loves her coffee.
12

Macaron Cards
If you need a creative card to give to mom this year, these macaron cards from Handmade Charlotte are great to try.
13

Herringbone Foldover Clutch
This herringbone foldover clutch from Hands Occupied will have mom thanking you for years to come when you gift her with this on Mother's Day.
14

DIY Crate Ottomon
Revamp your mom's living space with this awesome DIY crate ottoman tutorial from A Little Craft In Your Day.
15

Color Shift Earrings
Ready to have mom looking stylish on your day out? These color shift earrings from 30 Minute Crafts will be the perfect gift.