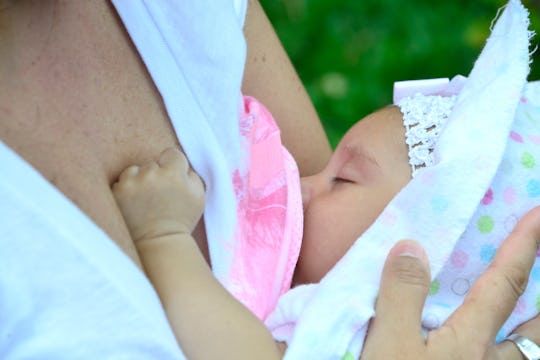 EZEQUIEL BECERRA/AFP/Getty Images
15 Reasons Breastfeeding And Going To Work Are Basically The Same
It's no secret that parenthood is "work." In fact, motherhood is constantly being described as the "hardest job in the world," which is a description I tend to stay away from because, well, I'm not getting paid. This isn't a job, it's a choice, and one that is difficult and taxing and exhausting and extraordinary and awarding. However, some of the things associated with motherhood, can absolutely feel like a "job." Breastfeeding is one of those things, and it didn't take me long to realize that breastfeeding and going to work are basically the same thing.
Just like having a job, breastfeeding can rewarding, and just like having a job, breastfeeding can be taxing. There are so many mixed emotions about being employed and about breastfeeding, that often times those two things are interchangeable. While I loved being able to exclusively breastfeed my son for seven months, there were times when I hated it and didn't want to do it anymore and wish it was someone else's (hell, anyone else's) problem. While I absolutely love my job (it's literally my dream job and something I have worked my entire life for and toward), there are days when I'm so exhausted and overwhelmed that I simply don't want to do it anymore. All that glitters isn't gold, and even the best things can, at times, suck.
Which is why it helps to talk about the bad sides of even the best experiences. I love having a job (and am acutely aware of how lucky I am to have one), but sometimes I need to vent about how difficult it is. I am so very grateful that I was able to breastfeed my son, but sometimes it wasn't all that fun and, at times, felt exactly like having a job.