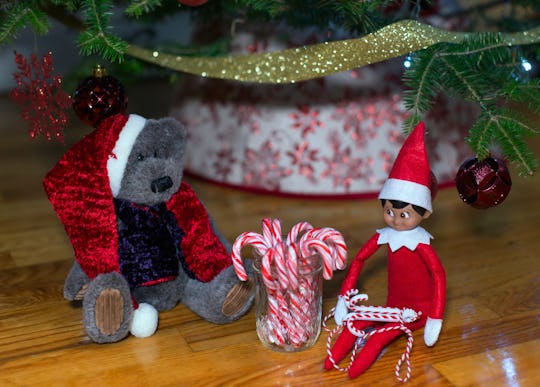 HappyPic/Shutterstock
19 Easy Elf On The Shelf Christmas Eve Ideas, Bc You're So Done
When you have a toddler in the house, it doesn't get any better than Christmas Eve. Their off-the-charts excitement for Santa is completely contagious, and your Elf on the Shelf's presence all month long help build the anticipation. But all good things must come to an end. Your child might be crushed once they actually realize that their beloved Scout won't be around come Christmas morning, so you got to make sure he or she goes out with a bang. These easy Elf on the Shelf Christmas Eve ideas for toddlers will conveniently set the elf up for his departure (and Kris Kringle's arrival).
When Christmas Eve finally arrives, my kids are elated that the wait for presents is finally over. But as a parent, I have another reason to rejoice: I no longer have to find a hiding spot for our Elf on the Shelf. After weeks of moving that little doll around the house and waking up in a panic on the nights when I forgot, it's pretty glorious to have the reign of the Elf come to an end. On the night before Christmas Eve, I love going all out and doing one last epic scene, because in 24 hours, I get to pack Scout up and store him away until next year.
Here are 19 easy-yet-grand finales for your Elf that will make saying goodbye just a little bit easier.