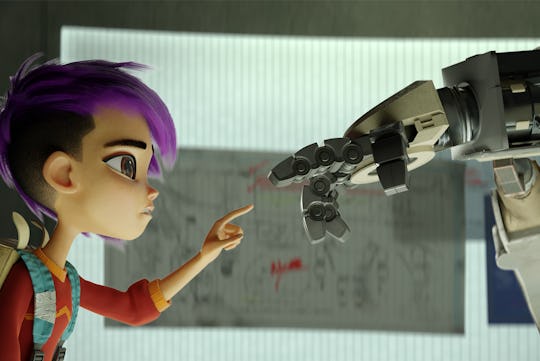 Courtesy of Netflix
Here Are 3 New Kids & Family Titles Coming To Netflix This September
Another month, another new Netflix lineup! With September just around the corner, Netflix has announced three original kids and family titles coming to the streaming site next month. Sure, the adult movies (like, movies for adults, not adult movies) coming to the streaming service are exciting too — but nothing's as exciting as a show that will keep your kids entertained for an hour or so while you finally take that shower you've been dreaming of for three days, or whatever you need to do.
The first kids title hitting Netflix next month is an original animated movie called Next Gen, arriving on Sept. 7, according to Netflix. As seen in the flick's trailer, which is already on Netflix's website and YouTube, Next Gen is about a lonely kid named Mai who accidentally wakes up a "top-secret" robot. She and the robot decide to team up to use their powers for good, and they go on a journey of fighting off bullies and other evil creatures. Netflix's website recommends the movie in particular for those ages 8 to 10.
The animated flick stars an impressive arsenal of voice actors including Jason Sudeikis, Michael Peña, John Krasinski, Constance Wu, David Cross, and Charlyne Yi, according to IMDb.
Then, on Sept. 14, Netflix users will be able to watch a new animated series called The Dragon Prince. The series tells the take of an elfin assassin who is sent to kill two princes from another land. The princes manage to befriend the elf hitman, and the trio works together to create peace between their two lands, according to the trailer's description on YouTube and Netflix's website. Netflix recommends the series for children ages 11 to 12, which makes sense, considering the slightly dark subject matter.
Aaron Ehasz, known for being the head writer of Avatar: The Last Airbender, and Justin Richmond, a game developer for Uncharted, are the minds behind the project, according to Deadline.
And on Sept. 21, an animated series called Hilda will drop on Netflix. According to Netflix's website, Hilda tells the story of a girl named Hilda who journeys from the wilderness, where she is surrounded by elves, to a city named Trolberg. (Looks like Netflix is super into elves this year!) When Hilda arrives, she encounters a variety of new creatures — and makes friends along the way. Netflix recommends Hilda to children ages 5 to 7.
The show will star Bella Ramsey of Netflix's The Worst Witch, as well as Ameerah Falzon-Ojo, Claire Skinner, Ilan Galkoff, Daisy Haggard, and Kaisa Hammarlund, according to IMDb.
These are not the only new titles coming to Netflix in September. Other new original series hitting the streaming service include Norm Macdonald has a Show, Maniac, and The Good Cop. Second seasons of original Netflix shows including Atypical, Marvel's Iron Fist, and American Vandal are all dropping in September as well.
With summer winding down, September's line-up sure sounds great for a night or day in with some Netflix... and a pumpkin spice latte while you're at it.
Additionally, several Netflix original films will be coming to the app in September, including Sierra Burgess Is A Loser, Nappily Ever After, and Hold the Dark. Netflix original documentaries including City of Joy, Quincy, and the fifth volume of Chef's Table will all become available as well. And finally, the kid-friendly A Wrinkle in Time will hit Netflix on Sept. 25. For a full calendar of September's Netflix arrivals, check out CNET's list.
It's clear that Netflix is really embracing the whole original content thing right now — but if you just want to binge watch Friends for the millionth time, I won't judge you.