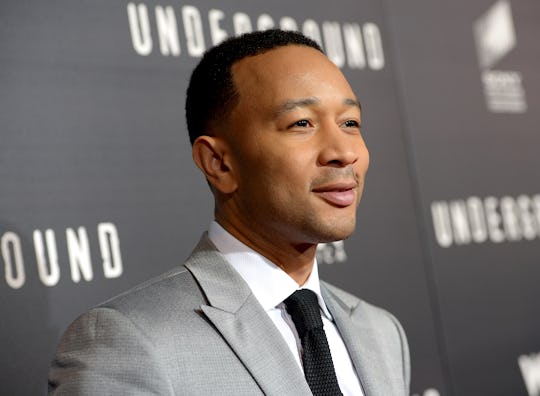 Charley Gallay/Getty Images Entertainment/Getty Images
3 Times John Legend Showed That Dads Don't Just "Babysit," They Parent
John Legend and Chrissy Teigen are two of the most talked-about parents of 2016. Since Luna Simone Stephens' birth in April, the couple publicly embraced their new roles; they shared photos and doting anecdotes on social media, delighting fans with their candor and excitement. Though celebrity mothers and fathers often have privileges many parents don't (especially when it comes to childcare options), it's evident that Legend and Teigen are totally enamored with their daughter and love spending as much time with her as possible. Legend's stories and photographs show that even famous dads don't just babysit, they parent.
Legend and Teigen welcomed their first child on Sunday, April 17; according to Entertainment Tonight, Luna weighed 6 pounds, 11 ounces. Teigen captioned the Instagram announcement, "She's here! Luna Simone Stephens, we are so in love with you! And sleepy. Very sleepy." It's safe to say Legend and Teigen haven't gotten much sleep in the weeks since: when they aren't out working on projects, they're often hanging out with their daughter (and taking plenty of snapshots). Though they've received lots of congratulatory messages from fans, they've also endured criticism for their parenting style (most notably when Teigen got mom-shamed just days after giving birth). It's Legend's commitment to being a good dad through moments of joy and moments of adversity that show how genuinely dedicated he is to fatherhood and to family.
He Stands Up For His Wife
After their first week as new parents, Legend and Teigen stepped out for the evening, Elle reported. When paparazzi photographed the two on their dinner date, people questioned their decision to leave the baby at home and bombarded Teigen with mom-shaming messages. Though Teigen confronted the criticism with a sense of humor, Legend defended his wife:
Legend stood by his tweet in the days following. During an interview with TODAY, the musician spoke up about the importance of letting parents make the best choices for their family and attempted to shut down mom-shaming:
You know, every once in a while, you have to take care of yourselves as a couple. We've got Chrissy's mom at home. We've got a great baby nurse. We've got all kinds of help — and we know Luna's in good hands when we do have a chance to leave the house.
Legend not only recognized the unique challenges Teigen faces as a mother in the public eye, but he attempted to do what he could to support her.
He Makes Memories
Legend takes photos of his days with Teigen and the baby, whether they're out on the town or having a cozy day at home. He's also got plenty of pictures showing loved ones visiting Luna. It can be tricky to document the the first months of a baby's life while also learning how to get into the routine of caring for a human being, but he's capturing memories on camera that their family will surely treasure.
He Does The Heavy Lifting
According to Teigen, Legend changes diapers. In a Father's Day post on Instagram, Teigen shared all of the ways Legend helps out at home:
Since the day she was born, you've done every bottle with me, woken up with me to keep me company through every night. You don't mind diapers, get all the best burps, and read her Goodnight Moon like poetry. It makes me so happy to see so much of you in her smile and eyes that completely glow when looking at you. She will never look at anyone - anyone - the way she looks at you.
Legend may be a music superstar, but he seems to be a seriously stellar dad, too.