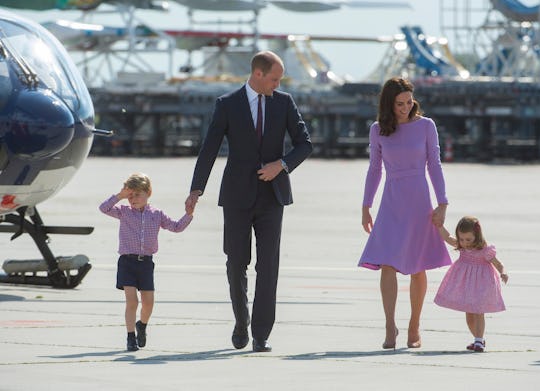 Pool/Getty Images Entertainment/Getty Images
4 "Rules" The Royal Kids Have To Follow, & Sometimes Before They're Out Of Diapers
When you're a member of the British royal family, there is a certain set of rules that you have to follow. These strict rules dictate everything from when you stand and how you eat to what you wear and how you wave. Every adult has to adhere to these guidelines, but children aren't let off the hook. In fact, here are four "rules" the royal kids have to follow. A couple of these children-specific rules are interesting, to say the least.
How interesting? Well, Prince William and Kate Middleton's children, 4-year-old Prince George, 2-year-old Prince Charlotte, and their baby on the way, must master the "Windsor Wave" before they're even potty trained. Honestly, I still can't get my toddler son to listen to a word I say, so I'm surprised the royal kiddos are able to perform something as simple, yet intricate, as the royal wave.
They also have to learn to speak formally at an early age. So, for example, instead of saying "lounge," they would say "sitting room," or "settee" instead of sofa. (Personally, I prefer "davenport" in place of sofa, but I'm not a royal, so I have no say, really.) All in all, it's quite fascinating to know what royal kids have to go through just for being born into the royal family.
Boys Must Always Wear Shorts
Young boys wearing shorts is a centuries-old practice among British aristocrats, including Prince William and his brother, Prince Harry of Wales. The dress code is meant to signify their royal status, according to Harper's Bazaar UK. Royal boys stay in shorts until around 7 or 8 years old, the age when they "graduate" to pants, Harper's Bazaar UK reported.
Royal Kids Must Always Be Graceful
Royal children must master royal etiquette at a young age. They learn the "Windsor Wave" before they're out of diapers, according to The Atlantic. (Reportedly, Prince William began giving the royal wave around 18 months old.) Prince George seems to have mastered the "Windsor Wave" himself, and surely Princess Charlotte is working on her form, too. But royal kids don't only need to learn the hand gesture; they also must learn to speak formally from a young age, using words such as "lavatory" instead of "toilet," according to BabyGaga.
Royal Children Must Serve In The Wedding Party
It's a long tradition to have royal kids as bridesmaids and pageboys of a royal wedding party. Prince George and Princess Charlotte both played a role in Pippa Middleton's wedding last year, according to The Mirror, and will most likely serve in Prince Harry and Meghan Markle's ceremony next month. Both their father and uncle have done the same: Prince Harry was a pageboy in Earl Charles Spencer's wedding in 1989, while Prince William was a pageboy in Prince Andrew's wedding in 1986, The Mirror reported.
Royal Kids May Not Fly With Their Parents
There's a certain protocol royal family members must follow when it comes to travel. One (sort of) steadfast rule: Two heirs must not fly together, according to Hello! Magazine. This protocol is in place to protect royal lineage in the event of a horrific accident. But Prince William had broken this rule when Prince George was 9 months old; the father-son duo traveled on the same flight to Australia at the time, Hello! reported. Nevertheless, no exceptions will be made after Prince George turns 12 years old, according to BabyGaga.
Of course, there are just four rules that Prince George, Princess Charlotte, and other kids in the British royal family have to follow. When they get older, they'll have a longer list of guidelines to adhere to. Who knows, though? Maybe one of them will decide to be rebellious.