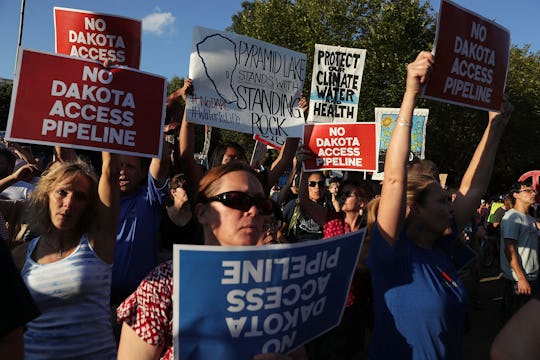 Alex Wong/Getty Images News/Getty Images
5 Recent Oil Spills Show Pipelines Aren't Perfect
On Tuesday, President Donald Trump signed executive actions to advance approval of the controversial Keystone XL and Dakota Access oil pipelines. Worryingly, he also issued executive actions that would streamline the regulatory process for pipeline construction and shorten the environmental review process. The move has many speaking out, especially since as of late, there have been many devastating recent oil spills that prove pipelines need to be reconsidered when it comes to construction, placement, and regulation and monitoring.
Trump's decision this week goes against efforts made by former president Barack Obama's administration to hinder progress on the two projects, particularly the Dakota Access Pipeline, which has been the subject of protests by environmental and Native American activists in recent months. The Standing Rock Sioux tribe has responded to Trump's actions, with Dave Archambault II, chairman of the Standing Rock tribe, saying, "Americans know this pipeline was unfairly rerouted towards our nation and without our consent. The existing pipeline route risks infringing on our treaty rights, contaminating our water and the water of 17 million Americans downstream."
The people of the Standing Rock Sioux tribe are right to have concerns. In December, an oil pipeline 150 miles west of the Dakota Access Pipeline protest site, the Belle Fourche Pipeline, ruptured and spilled more than 176,000 gallons of oil into a hillside and a tributary of the Little Missouri River.
And last week, 53,000 gallons or around 1,260 barrels of oil was spilled on First Nations land in Saskatchewan, Canada. There are so many pipelines in the area, the government is uncertain which was even responsible for the spill. It's believed the source could be Tundra Energy Marketing Limited (TEML), and the company is leading clean-up efforts. As of two days ago, 170,000 liters, or around 44,909 gallons, have been recovered from the spill. And some reports say the leak may have begun even earlier than expected.
The pipeline was reportedly shut down as soon as the breach was found. But some people wonder if the spill was already underway before the government was made aware of it. Ocean Man First Nation chief Connie Big Eagle said one band member, a longtime oil industry employee, smelled a strange odor near the site of the spill. Big Eagle told CBC News the smell was "going on for about a week."
And back here in the United States, an underground pipeline running through several Midwestern states has reportedly leaked an estimated 138,000 gallons of diesel fuel from a 12-inch underground pipe. Diesel was spotted in a field in Worth County, Iowa, on Wednesday morning, and Jeff Vansteenburg of the Iowa Department of Natural Resources said, "It's a big one — it's significant."
The company that owns the pipeline, Magellan Midstream Partners, was joined by officials from the U.S. Environmental Protection Agency and Iowa Department of Natural Resources, as well as local officials, at the site. Vansteenburg said the diesel had not reached nearby Willow Creek or a wildlife protection area. The pipeline runs through Illinois, Iowa, Minnesota, North Dakota, South Dakota and Wisconsin, and over a foot of snow has fallen recently in parts of north-central Iowa, making clean-up even messier.
In regards to the Iowa oil spill, Magellan issued the following comment to Romper:
Magellan representatives and environmental specialists are continuing to make progress with the clean-up and product recovery at the release site in northern Iowa. The diesel fuel is contained in the immediate area of the pipeline release and the fuel has not come into contact with any waterways. Safety remains a top priority at the site and we have no injuries or evacuations associated with this incident.
Repairs to the damaged segment of pipeline have been completed and Magellan representatives are working with regulators on a plan to resume operations. However, we do not have an estimate when we pipeline operations will resume at this time. We do not expect this incident to disrupt supply of gasoline, diesel and other refined petroleum products in the region.
The cause of the incident remains under investigation at this time.
This is not the first time Magellan has been caught up in a pipeline problem. The company also had two other leads in other parts of the country. Magellan hasn't yet responded to requests for comment regarding those leaks.
Another pipeline operated by Magellan leaked near Decatur, Neb., last October, according to the Omaha World-Herald, which reported that a ruptured pipe carrying anhydrous ammonia killed one person and led to the evacuation of 23 households.
In 2010, the company agreed to pay a $46,200 penalty for violating the Clean Water Act, after an estimated 5,000 gallons of diesel spilled into a creek near Milford, Iowa. That year, Magellan was also fined $418,000 for a 45,000-gallon gasoline spill in Oklahoma.
So it's not hard to see why people are not thrilled with Trump for reviving plans to move forward with two pipelines that have been heavily protested. These are just a few of the recent examples of pipeline disasters that prove that the construction of these structures needs to be reconsidered. There are around 2.6 million miles of pipelines in the United States, and every week there seem to be more incidents of leaks, if not more dangerous ruptures, of pipelines.
Especially when the people the construction of new pipelines would impact don't want it, maybe it's time to reconsider the projects.