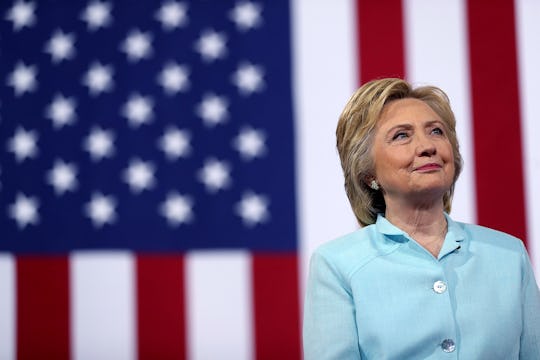 Justin Sullivan/Getty Images News/Getty Images
5 Facts About "Mother Candidates," After Hillary Clinton's Historic Nomination
Hillary Clinton's candidacy so far has been historic. Clinton has spent her life knocking down barriers to get to where she is today, and people of all political persuasions can agree that her trailblazing is an inspiration to women and girls the world over. Not only is Hillary Clinton the first woman candidate to top a major-party ticket, she's also the first mother (and grandmother!) to get this close to becoming the leader of the free world.
Being a woman, mother, and grandmother matter because these identities (and the experiences and knowledge that comes with them) set Clinton apart, particularly from her opponent, Donald Trump. For one, Clinton's visibility may have an important role model effect on other women and young girls: seeing a woman, mother, and grandmother occupy the highest position of power in the United States can encourage more women to seek office themselves, according to Political Research Quarterly. Secondly, mothers may have a unique viewpoint that they've developed through living the trials and tribulations associated with raising children. Electing mothers who get and understand what American families need to thrive may have profound, positive public policy effects — in fact, research conducted by Dr. Michele Swers in the book The Difference Women Make finds evidence that women policymakers are more likely than men to introduce, sponsor, and advocate for issues that disproportionately affect women, like paid family leave and childcare subsidies.
But while our country might be better off with more women and mothers in office, there are several barriers to electing more of them. I have a PhD in political science and work in the public opinion industry where I've been studying mothers in politics for nearly a decade. I can say with certainty that Clinton's success is, unfortunately, very much the exception rather than the rule. Women face a host of obstacles in the climb to the top — both in business and in politics — but throwing children into the mix dramatically heighten barriers to women's advancement, according to a 2012 report by Jennifer L. Lawless on The Continued Under-Representation of Women in U.S. Politics.
Because mother politicians are still so rare in America, there is very little knowledge about them and what — if anything — makes them different. I've culled together the little research available (and much of it is research I have personally conducted) to present to five things to know about mother candidates:
When Moms Run, They Campaign Differently Than Dads
When women with young children break through the initial barriers and run for office, they tend to campaign differently than their male counterparts. While fathers showcase their children on the campaign trail, women tend to minimize their role as mothers. With my colleague Dr. Mona Kleinberg, I conducted a study of candidates in competitive congressional races — "A Mom First and a Candidate Second: Gender Differences in Candidates' Self-Presentation of Family" — and found that men were more likely than women candidates to feature pictures of their children on their campaign websites. Despite high-profile mother candidates like Sarah Palin, who attempted to use her parental status as a credential, women are still more likely to campaign by themselves rather than with their families.
For higher levels of office, including executive roles, women may minimize their roles as mothers to assuage voter fears that young children would be a distraction or take the politician away from her duties as a representative. This is a stereotype men rarely — if ever — have to confront.
Overall, Mothers Are Less Politically Ambitious
According to the Rutgers Eagleton Institute of Politics, a total of 46 women serve the 114 U.S. Senate. In a 2015 report also completed by Rutgers' Eagleton Institute of Politics, 84 of the 435 members of the U.S. House of Representatives were women, and they represented 31 states. And research about mother candidates — particularly those with young children — is scant because so few mothers actually run for office. Women tend to enter politics when they're older, after their children are grown, when childcare responsibilities lessen, according to research by Susan J. Carroll and Kira Sanbonmatsu titled "Gender and the Decision to Run for the State Legislature." In an examination of the freshmen members of the 113 Congress, the Center for American Women and Politics found that while half of the male freshmen in Congress had young children at home, only one woman did.
When a partner called Clinton after she gave birth and asked when she was coming back to work, she responded that she needed four months off, creating the first family-leave policy ever at her law firm.
The Center for American Women and Politics also conducted a national survey of state legislators — a position that's often a stepping stone for Congress — and found that 23 percent of male legislators had children under 18 compared to just 14 percent of women, a statistically significant difference. In the same survey, a 57 percent of women state legislators said the age of their children was a very important consideration in their decision to run for office — only about two in five men said the same.
Mothers, then, tend to weigh family considerations more heavily than fathers (likely because they shoulder more responsibility for childcare).
Voters May Penalize Moms Of Young Children...
Compared to fathers of young children, moms may receive a penalty from voters. A study I conducted in 2010 titled "Voting For Mom: The Political Consequences of Being A Parent for Male and Female Candidates" published in Politics & Gender found that voters believe men with young children will have more time to serve in office compared to women with young children — an assumption that hinges on the reality that despite women's advances in the workplace, they are still doing just as much, if not more, work at home. In fact, a recent national survey I conducted with my colleagues at Whitman Insight Strategies found that 55 percent of partnered women say they are responsible for caring for loved ones, including children and elderly relatives, while only 39 percent of partnered men say the same.
Especially striking is the finding that this pattern holds across generations — millennial women are just as likely as women from the Greatest Generation to perform these levels of work inside the home, an indication of the durability of gender roles.
When Clinton was pregnant with Chelsea, the law firm she worked at didn't offer a maternity policy, and the partners would barely acknowledge she was even pregnant.
The study I conducted in 2010 for Politics & Gender also found that mother candidates are perceived as less viable than father candidates, which may point to an unconscious bias voters bring to their evaluations of mother candidates. Indeed, a survey conducted by Pew Research found that nearly two in five Americans believe the trend of more mothers of young children working outside the home had been bad for society.
But Childless Women Receive The Harshest Penalty
As many barriers as there are for moms in politics, childless women are viewed even more negatively. The study I conducted for Politics & Gender also found that voters are significantly less likely to express support for a childless woman candidate and prefer her to have children who are grown. For men, parental status was far less relevant in voters' evaluations. Being childless may be considered "deviant" and perpetuate stereotypes of "career women" (read: any woman who seeks power in her own right) as selfish, cold, and out-of-touch.
Having children may make candidates of both genders more relatable to voters who are looking for candidates who "understand" them. However, this puts women candidates in a double bind: having young children can be a liability if voters question her ability to juggle both the demands of child-rearing and the responsibilities of public office, but having no children puts women in the position of having to confront stereotypes related to being childless. Having adult children may be the "ideal" parental status for women, but running for office later in life limits opportunities to gain the necessary experience to run for higher levels of office.
When Moms Win, They're More Likely To Push Policies That Help Families
Numerous studies have shown that women tend to have different policy priorities than men and are more likely to advocate for policies that help working families, like paid family leave and child care, according to PoliticalParity.org's research on "Why Women? The Impact of Women in Elected Office." When Clinton was pregnant with Chelsea, the law firm she worked at didn't offer a maternity policy, and the partners would barely acknowledge she was even pregnant. In a 2012 interview with CNSNews.com, Hillary Clinton spoke candidly about her pregnancy:
I was the only female partner, and they'd never had a female partner and certainly not a pregnant female partner. And they literally just were not sure what to do with me. I would walk down the corridor getting more and more pregnant, and the men in the firm would like look away, never say a word.
And when a partner called Clinton after she gave birth and asked when she was coming back to work, she responded that she needed four months off, creating the first family-leave policy ever at her law firm. In a speech given at the State Department's 2012 National Work-Life and Family Month, Clinton said,
And I was in the hospital when one of my partners called to say congratulations, and then in the course of asked, 'Well, when are you coming back to work?' And I said, 'Oh, I don't know. Maybe in four months.' And that's how I created the firm's first-ever maternity leave policy.
Even though Clinton was fortunate enough to get the time off she needed to be with Chelsea, many women get much less time off, if at all — today, a quarter of all women in America have to leave their newborn and return to work within 10 days of giving birth because they have no paid leave. On her website, Clinton credited her experience in shaping her strong support for policies like guaranteeing paid family leave, making childcare more affordable, and raising the minimum wage — all of which are critical policy changes that will strengthen American families and create more opportunities for women to get ahead. As Clinton said:
I think that this is an issue that is not a woman's issue. It is a human issue and a family issue. After all, there is little doubt that balancing work and family responsibilities is done in one way or another by people everywhere, every day.
This is not to say men or childless women can't strongly advocate for policies that help American families — they are certainly can and have throughout history. But women who have the lived experience of being a mother and all that it entails may have a better sense of what the government needs to do to help make life easier for working families. Electing more of these women will go a long way toward passing more family-friendly policies that will strengthen the whole country.
Ironically, the policy changes that make it easier for women to combine motherhood and a career is ultimately what will help encourage more mother candidates to run for office. Hillary Clinton's visibility — as a woman, as a mom, and as a grandmother — may help propel this forward. You can't be what you can't see, and seeing a mother occupy the highest political office in the land may do much to break down barriers for women candidates in general.