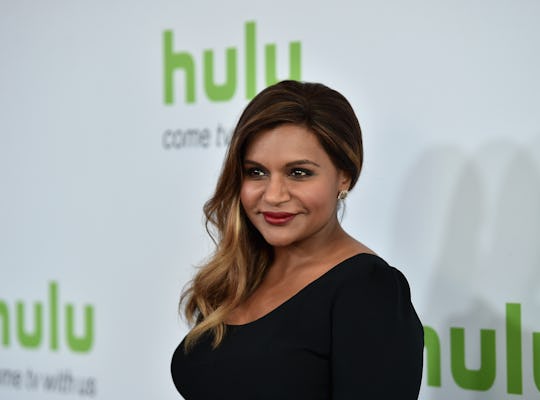 Alberto E. Rodriguez/Getty Images Entertainment/Getty Images
Mindy Kaling Will Be The Most Hilarious Mom
Mindy Kaling is a lot of things: comedian extraordinaire, TV writer, actress, author. And before the end of 2017, she'll add another aspect to her identity: mother. The 38-year-old The Office alum revealed last week that she is expecting her first child — and her endless accomplishments indicate that she'll be a hardworking and devoted mom. What's more, there are plenty of Mindy Kaling quotes from throughout the years that 100 percent prove that she'll be a hilarious (and very insightful) parent to her kid. Whether she's dishing life advice, musing on the importance of family, or detailing her philosophy on starting a family, Kaling has shown that any child of hers will be one lucky child indeed.
The soon-to-be baby was, reportedly, "an unexpected surprise" for Kaling, and word on the street is that she doesn't plan to tell anyone the identity of the baby's father. It's really none of our business who he is and how involved he will be with the child, but comments that Kaling has made in interviews and truth bombs she's dropped in her books pretty much guarantee that any child of hers will have all the love (and laughs!) available to a kid growing up with two parents or more. As we wait to meet the new baby, let's peruse some Kaling highlights.
On Family Planning
In a 2015 interview with Yahoo! Style, the star of the hit sitcom The Mindy Project said that she was getting serious about wanting to have kids — and shared that she wanted to do so "maybe imminently." But even though lots of women in their mid- to late 30s may start to freak out about their biological clocks if they want kids, Kaling knew how to play it cool:
I think I've decided that unlike everything else in my life, I'm going to be fast and loose about kids. I'm going to not actively plan, but if it happens, it would happen. I'm not cavalier about who I would have a kid with. But the thing I ask every parent that I really admire, the one comment they all have is that they wish they had kids earlier.
On Her Love For Her Own Mom
Now that Kaling is about to become a mom herself, it's even more poignant to look back on her comments about her mom, who died of cancer in 2012. Speaking to Good Housekeeping in 2015, Kaling showed nothing but admiration for the woman who raised her:
She was very busy, and she did not suffer fools. Her no-nonsense attitude is the single best thing I got from her. We're hungry, ambitious people. It's a family trait.
There's little doubt that Kaling will strive to pass down that ambition to her child, as well.
On The Importance Of Time With Family
Kaling may have decided not to actively plan for kids, but she's still big on spending time together as a family. In her book Is Everyone Hanging Out Without Me? (And Other Concerns), she wrote about family time from the perspective of being a daughter, according to E! News:
Later, when you're grown up, you realize you never really get to hang out with your family. You pretty much have only eighteen years to spend with them full time, and that's it.
On Instilling Confidence In Girls
Kaling wants girls to know how to be confident, she explained in a BuzzFeed Q&A in 2015.
Now, one thing I will say about women is that confidence tends to offend people a lot when you truly have it. You have to be really careful about that. So what I've noticed is, while I want to encourage women to be very confident, I think you can be quietly confident. ... Quiet confidence is the thing we need to be telling girls about, not shout-it-from-the-rooftops confidence, and that's how I think you can really succeed.
Somehow, I feel pretty confident she'll instill confidence in any kid of hers.
On Child Care
In Is Everyone Hanging Out Without Me?, Kaling shared her... unorthodox philosophy on the qualifications one needs to be a entrusted with someone else's kids. "Bribes and boy bands," she wrote, according to HuffPost. "That's all you need to be a babysitter."
We'll see whether that piece of wisdom holds up when Kaling has a baby of her own, but the overall sentiment stands: She is going to make an absolutely fantastic, and wholly entertaining, mom.