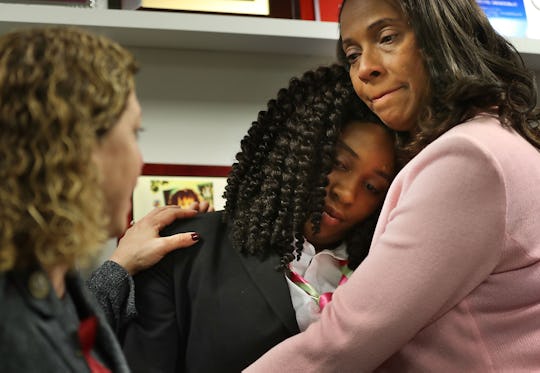 Joe Raedle/Getty Images News/Getty Images
5 Moms Reveal How They Explained The Parkland Shooting To Their Kids
It's been nearly a month since the tragic shooting at Marjory Stoneman Douglas High School. Since that day on Feb. 14, 2018, when 17 students and faculty lost their lives, kids in schools across the country have been subjected to random lockdown drills, book bag bans, and more threats of violence. Some kids are old enough to understand why, while others are just beginning to put the pieces together. It's a frightening time for everyone, though; one filled with uncertainty and unanswered questions. So, how are parents explaining the Parkland shooting to their kids? How do you describe such a senseless act of mass violence to children?
My son is 4-years-old, and he's already starting to understand the concept of death. It's a difficult subject to explain to a kid, especially because I don't want to scare him. He's started imaginative play involving shooting, too, which frightens me a bit. While I do what I can to shield him from the world of guns (my family doesn't own guns, nor do we watch anything where guns are used while our son is present), I know he will eventually pick up on what a firearm really is and why they're used. Someday (and likely it will be soon), he will start asking his father and I why people shoot other people, and why anyone would shoot kids in classrooms.
If I'm being honest, I will have to admit that I have no idea how to explain mass shootings and school shootings to my pure-hearted child. That conversation seems, well, impossible. But after talking with a handful of other mothers who have already facilitated these discussions their kids, I'm definitely feeling a bit more prepared. If you're still wondering how best to share this information with your little ones, I suggest reading on.