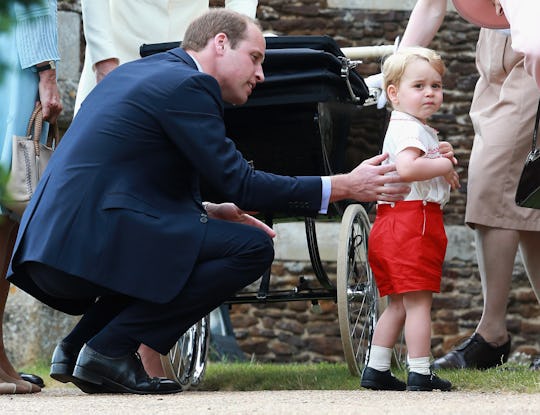 Chris Jackson/Getty Images Entertainment/Getty Images
5 Times Prince William Didn't Take Any Crap From His Kids
I'm no royal, but I can't imagine it's easy to grow up in the public eye. Whenever Prince William, Kate Middleton, and their children step out, their every move is captured and criticized by the world. And let's face it — no many how well-behaved a child is, they're not going to be perfect 100-percent the time. Which brings me to another royal struggle: Parenting in the ever-present limelight. I'm in awe of the fact that Prince William and Middleton get their kids to act right without losing all chill in public every once in a while. With that said, the Duke and Duchess of Cambridge don't allow the royal children to walk all over them in public, either. In fact, here are five times Prince William didn't take any crap from his kids.
As you might have heard, Prince William and Kate Middleton recently welcomed royal baby number three to the family on April 23, People reported. Their current kid line-up goes like this: Prince George, 4 (he'll be 5 in July), Prince Charlotte, 3, and newborn Prince Louis. So it's safe to say they're not exactly newbies at this whole parenting business, at this point. Nope. These royals know exactly when to lay down the law — and the best ways of doing so for each kid. As far as Prince William is concerned, let's take a look back at some of his best "not taking any crap" moments. Like...
1. That Time He Gave Prince George "The Look" On The Balcony
As The Cut reported, the royal children pretty much stole the show during this year's Trooping the Colour in May. Between Middleton catching Princess Charlotte before she fell back, Savannah Philip's sarcastic conducting and cousin-shushing, and Prince George's bouts of boredom, all eyes were on the little ones standing in the foreground — including Prince William's.
I'm not sure if the littles could actually see it, but Prince William was throwing some massive shade at Prince George and his cousin, Savannah Philips, while she was covering Prince George's mouth during "God Save the Queen." Whether or not "the look" was ultimately effective at the time, the Duke of Cambridge definitely has this signature parenting move down pat.
2. When Prince George Was Hiding Behind Him At The Royal Wedding
Following Prince Harry and Meghan Markle's May 19 wedding ceremony, the royal family waited on the steps of Windsor Castle to bid farewell to the newlyweds. Princess Charlotte was adorably waving at everyone, but not her big brother. Instead, Prince George appeared to be all peopled-out and opted to hide behind Prince William's legs, Metro reported. At this point, Prince George had been preparing for and carrying out his page boy duties for hours — so it seems as if Prince William was smart and picked his battle on this one. Still, the Duke of Cambridge put his foot down and didn't allow his son to straight-up stand behind him. Way to go, dad!
3. That Time Prince George Kept Swinging His Leg Out Of Boredom
Prince William seems to be having a stern word with Prince George in the photo above. The young prince was swinging his leg (I'm assuming out of boredom), clearly over mingling with important people during an official outing, when the Duke of Cambridge leaned down to address the behavior. Because it's one thing to have an anti-social moment, but it's another thing entirely to potentially kick people you're supposed to be schmoozing with.
4. That Time Charlotte Threw A Tantrum Before Getting On A Plane
It's hard to forget the photos of Princess Charlotte throwing a mini-tantrum before boarding the royal family's private plane in Germany. In July 2017, the family was touring helicopters before getting ready to head back home, when the littlest royal had had enough, Express reported. She threw her little body onto the ground for a moment — but was quickly talked down by her mother. Once the toddler had regained her composure, Prince William didn't waste any time scooping her up and loading her on to the plane before the next wave kicked in.
5. When Prince George Was Beyond Bored At Last Year's Trooping The Colour
Then 3-year-old Prince George had moments of pure and utter boredom at the 2017 Trooping of Colour — the Queen's official birthday celebration, BuzzFeed reported. In the photo above, it appears as if Prince William is all like, "Look, buddy. I think this is boring, too. But it's almost over and you have to at least seem like you're having fun for Gan-Gan's sake, OK? So stop resting your head in your hand and look excited!" OK, so that's inferring quite a lot based on one photo. But it's hard to deny Prince William wasn't taking this overtly bored behavior lying down.
And there you have it! Prince William may be the king of dad jokes, but he knows when to lay down the law with his children. Even more impressive? He does so without raising his voice, at least in public. As it turns out, all it takes to get kids to act royal in public is getting down on their level, some reassuring words — a well-versed "look."