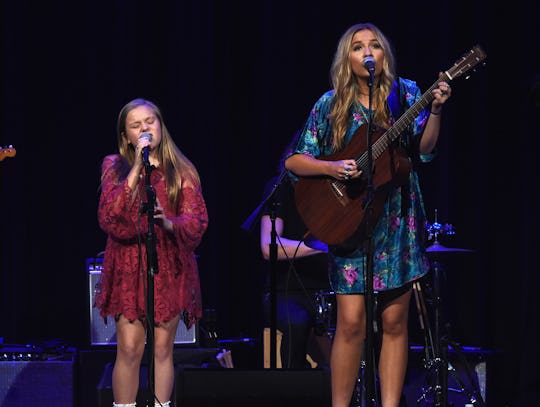 Rick Diamond/Getty Images Entertainment/Getty Images
5 Videos Of Kids Singing That Will Give You Life
There's plenty to say about parenting, but what's harder to put into words are those special little fleeting moments that remind you how much fun kids can be. Sure, they can be trying, and, sure, they can color with permanent markers all over your walls. But they are also incredibly cute, and sometimes even incredibly talented. To remind you of all that, here are five videos of kids singing that will give you life (we all need it).
The roundup has some variety to it, from chart-topping pop songs to heartfelt love tunes. Some singers are tiny and some are tinier. Some performances sound professional, others sound, well, endearing? But who knows. Any one of these little starlets could be a diva in the making. As it stands, they already have hundreds of thousands — even millions — of combined views. So, clearly, they're not doing too shabby. Of course, when it comes to your own kids, it's hard to judge. No matter what they do, they're a star. Without further ado, sit back, relax, turn up the volume, and prepare to laugh, cry, and pang with cute overload. These kids are going to knock your socks off. They're the best the wide world of the Internet has to offer.
Ronan Parke Singing Adele
This video will give you some serious chills. Ronan Parke made his singing debut on Britain's Got Talent, and though he didn't win, he won some hearts and gained a significant fan club. Anyone who's been in a car when Adele's "Someone Like You" has come on knows that it's not an easy song to sing (especially when other people are listening). But, Parke doesn't miss a beat. He nails this ballad.
This Amazing Rendition Of "Royals"
This video may not have the production quality of the last one, but that makes how good it sounds even more impressive. This little superstar in the making does a show-stopping, unaccompanied version of Lorde's "Royals" from a casual seat at the kitchen table. (No big deal.)
Lennon And Maisy
Lennon and Maisy got their start as YouTube superstars, but now they are fully fledged starlets on ABC's Nashville. Wherever they are, they are amazingly talented singers. No doubt they will make continue making music for many, many years to come. Here's hoping.
This Bruno Mars Song & Dance Routine
These brothers could just be playing with their toys, but no! They are putting on an adorable performance for the camera. Not only are they in matching jammies, but they also have matching dance moves and matching giggles. Most of what makes this video great is how much fun they're having, which is the most important thing anyway.
Kaitlyn Maher's AGT Performance
When Kaitlyn Maher stepped onto the stage of America's Got Talent, she was clearly very nervous, but after the judges put her at ease and she started singing, everyone in the audience got a little choked up. She doesn't have a loud, booming voice, but she's got feeling and she's up there doing her thing on her own. She's also really, really cute.
Little kids' antics, talent, and bravery against the odds can be inspiring for adults. There's a lot to learn from them. These videos can make viewers laugh, but they also remind us to have fun, take a chance, and just sing our hearts out no matter what it sounds like.