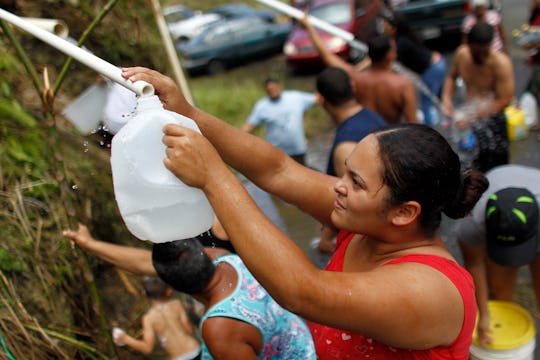 RICARDO ARDUENGO/AFP/Getty Images
5 Ways To Help Hurricane Victims In Puerto Rico When Trump's Efforts Fall Short
President Donald Trump dropped by the island of Puerto Rico on Tuesday to discuss ongoing relief efforts post-Hurricane Maria. However, while visiting the island, Trump somehow managed to mock its financial state, minimize the devastation because it wasn't "a real catastrophe like Katrina," and tell some survivors who are still living without electricity to "have a good time" — all within one press conference. So now, as the island's death toll has more than doubled from Hurricane Maria as of Tuesday evening, here's how you can help Puerto Rico since it looks like Trump's efforts so far aren't doing their part.
According to Puerto Rico Gov. Ricardo Rossello, the official death toll has been been raised from 16 to 34 people, the Associated Press reported. Rossello also noted that the island has suffered an estimated $90 billion worth of damage between Hurricane Irma and Hurricane Maria. According to a report by CNBC, the island remains largely without power, residents are begging in the streets for food and water, and the air smells of rotting flesh. Local officials trying to contain the issues brought on by the two hurricanes have called the situation in Puerto Rico a humanitarian crisis.
As Vox reported, FEMA has only approved $35 million in public and individual assistance grants for Puerto Rico — a U.S. territory — while $691 million in grants have been approved for Irma victims in Florida and $323 million was sent to Hurricane Harvey victims in Texas communities.
In short, the people of Puerto Rico need help. Here are a few ways to do so.
Cash
The most pressing need right now for Puerto Ricans is money. Charities who are organizing relief efforts need funds to buy food and supplies and to get those essential items out to those who need it most as quickly as possible.
One of the largest charitable organizations spearheaded by the First Lady of Puerto Rico, United For Puerto Rico, is working to coordinate aid to survivors, and 100 percent of the donations collected go to the victims of Hurricane Irma and Hurricane Maria, according to its website.
Other reputable charitable organizations working to help survivors in Puerto Rico include:
Crowdfunding
GoFundMe has introduced a special hub to pool all campaigns for those who would prefer to crowdsource their donations to Hurricane Maria victims and maintain control of how those funds will be used.
Marc Anthony and Jennifer Lopez, for example, created Somos Una Voz (We Are One Voice) to "rush food, shelter, medicine, power and communications to those in need from the effects of the recent natural disasters." According to the page:
The idea is to use the power of social media to reach more than 1 Billion followers on social media across the planet. Just imagine what we could do with big and small donations from the people that we reach, our corporate friends and ourselves.
Supplies
If you would like to send physical supplies, the government of Puerto Rico has provided a helpful guide for individuals and companies to donate integral supplies like bottled water, baby formula, construction items and more.
Donations are largely organized by The National Voluntary Organizations Active in Disasters (VOAD). If you want to contribute to relief efforts this way, here is a list of supplies that organizations are accepting in Puerto Rico right now.
Volunteer
You can register to volunteer through Puerto Rico VOAD, but be prepared to be patient. According to the website, it could take time to find out where you might be needed. The organization noted:
You will be contacted when public officials, first responders and disaster relief organizations have had the opportunity to assess the damage and identify specific and urgent needs. The need for volunteers is instrumental in the following months and years following a disaster.
Keep Posting
As President Trump's relief efforts continue to fall short while the people of Puerto Rico are still struggling to survive, it will remain vital to keep spreading the word, whether it be on social media or by word of mouth.
Don't let the next issue push it to the back of your mind. Remember Puerto Rico and make sure other people remember, too.
Watch Romper's new video series, Romper's Doula Diaries:
Check out the entire Romper's Doula Diaries series and other videos on Facebook and the Bustle app across Apple TV, Roku, and Amazon Fire TV.