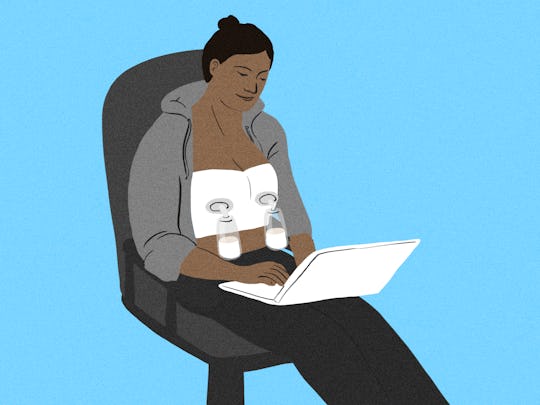 Claire Joines/Romper
6 Things To Do At Night To Make Morning Pumping Sessions Easier
You don't really understand the phrase "labor of love" until you've sat in a a chair with a breast pump hooked up to you first thing in the morning. You'd rather be sleeping, or even getting ready for work, but you've got to pump to keep your supply up. Whether you're exclusively pumping or only on occasion, using a breast pump doesn't have to be a nightmare. There are certain things you can do at night to make morning pumping much easier on yourself, and luckily, most of them are super easy.
Though pumping is different for every mom — some women can express a full bottle in one sitting, while others only get a few ounces — sticking to a pumping and nursing routine is important for your supply and for your baby's schedule. Since the more milk you remove from your breast, the more you'll produce, it makes sense to keep your pumping times consistent. Just like with nursing, skipping a feeding or pumping session signals to your body to slowly stop making milk at that time. So if pumping is an important part of your feeding cycle, be sure to do it consistently.
Although every mom who pumps does it for different reasons, these tips can help you streamline your pumping and nursing schedule, keeping it as simple and stress-free as possible.