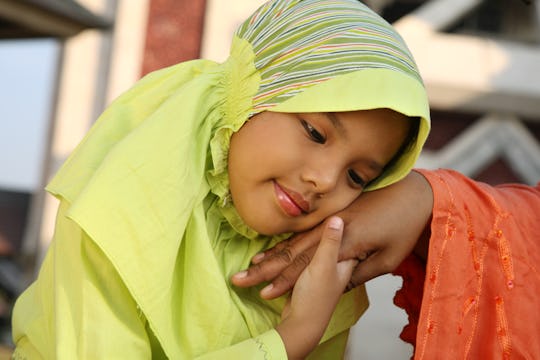 Fotolia
6 Women Talk About The Time Their Daughters Insulted Their Own Bodies
Full disclosure: I don't have a daughter. I have an almost two-year-old son, who loves running with his belly out and eating anything and everything and wearing pink because it's bright and the color of Sesame Street's Abby, one of his favorite characters. A part of me so badly wants a daughter, and would enjoy raising a strong, unapologetic, feminist woman. On the other hand, a part of me is, sad to say, pretty afraid. I have friends with daughters and those friends have shared times when, even at a young age, their daughters have insulted their own bodies. It would break my heart to hear my son talk negatively about his body and, of course, he has the advantage of being born and identifying as male. For young girls, hurtful messages are hurled in their direction at a very young age; messages that are as powerful as they are detrimental.
From setting unrealistic beauty standards to stripping reproductive rights away to refusing equal pay for equal work, our patriarchal society isn't all that kind to women, especially women's bodies. Women are constantly being sexualized, yet penalized for being sexual. Women are constantly being blamed for their own sexual assault, as if it's a woman's sole job to police the potential actions of others. Young women are being slut-shamed via ridiculous dress codes, that perpetuate rape culture and victim-blaming. At every corner and turn, you can see our society demoralizing and devaluing women and, no matter how hard a parent can try, there are some things you simply cannot protect your children from.
Like I said, I don't know what it's like to try and protect your daughter from unrealistic beauty expectations or any of the aforementioned issues plaguing our culture, so I asked mothers who do have daughters about a time their daughter insulted her own body. The stories these six mothers bravely shared are a testament to the power of advertisements, the absolute necessity of unapologetic self-love, and the reason why we all need gender-equality.