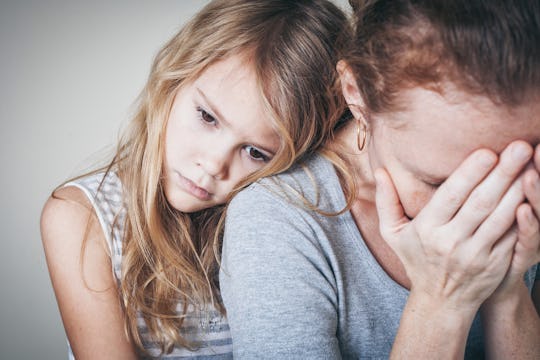 altanaka/Fotolia
7 Parenting Things You Don't Realize You're Doing Because You Have Anxiety
Whether you realize it or not, the state of your mental health is an important part of parenting. If you have anxiety, you're already aware of how it affects your own quality of life, and at times, the lives of those around you. Anxiety can manifest in many different ways — avoidance, excessive worrying, fear of typically "normal" scenarios — and it doesn't just disappear once you become a parent. In fact, there are probably parenting things you don't realize you're doing because you have anxiety, that are affecting, or will affect, your children at some point in their lives.
A 2015 Child Mind Institute Children's Mental Health Report states that 80 percent of children have a diagnosable anxiety disorder, and over 22 percent of all youth are susceptible to being diagnosed with some form of mental health disorder before they reach 18. Anxiety disorders are the most often diagnosed, and the median age of symptom onset is just 6 years old. Those statistics are staggering considering that, according to Anxiety and Depression Association of America, 40 million adults in the U.S. alone have some type of anxiety disorder. If you look at the numbers, there's bound to be a link between parenting with anxiety and the passage of anxiety-related symptoms.
Mental Health America states that the likelihood of an anxious parent passing their anxiety onto their child is varied and "unpredictable," as it has more to do with a child's biological and psychological makeup, combined with the risk of exposure and severity of a parent's mental illness. There are genetic links for some — such as Bipolar disorder — but it doesn't necessarily mean your child will have anxiety just because you do. However, being exposed to a parent's continual worry, and the symptoms present as the result of that worry, is bound to leave some sort of impression, and that thought alone, as a parent, is enough to trigger even more anxiety.
I'm, admittedly, guilty. I excessively worry about the way I parent and how my children are affected by my choices, because I'm one of the 40 million adults living with an anxiety disorder. While the anxiety didn't manifest because of having children, it's magnified by it. At times, I can't tell if I'm doing something because it's the right thing for my two children, or because it's what my anxiety has dictated I do. Subsequently, I find myself desperately searching for and seeking advice on how not to mess up, or how to be a better parent. At the end of the day, that's all we all want — to do right by our children. Anxiety gets in the way of that, clouding our judgement and often forcing us to err on the sides of caution, fear, and apprehension when it isn't necessary.