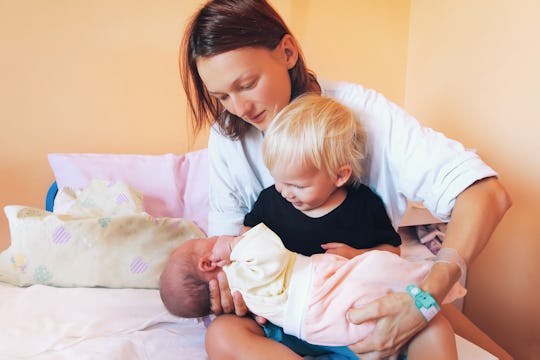 nataliaderiabina/Fotolia
7 Very Real Fears Every Mom Has Before She Brings Her Second Baby Home
Full disclosure: I had no idea what to expect as a mom of two. It was one thing to talk about having two kids, or to plan and prepare, but it was another thing to walk through the door and suddenly be responsible for not one but two lives. At first I thought there was something wrong with me, but I later learned there are more than a few very real fears every mom has before she brings her second baby home. Now I know I'm not alone in my feelings, and that every mom is anxious before she takes her second baby home from the hospital or birthing center.
As parents preparing to care for two children, my partner and I did everything we thought we should do before the arrival of our daughter's brother on her fifth birthday. Still, we were clueless... just like we were when our first baby was born. I remember not wanting to leave the hospital I was so scared, and even though I had already been a mom for five years. In so many ways, everything was different. I had to care for a newborn and a 5-year-old at the same time. I had to adjust to living on no sleep, again, and be functional for the benefit of my daughter. And since my partner had to return to work almost right away after our son was born, I had to adjust all on my own.
Thankfully, I learned that while my fears were legitimate, they also eventually faded as I settled into my new role as a mom of two. Being anxious about caring for two children didn't make me a bad mom, or ill-suited for the job. It just made me a human being. So with that in mind, here are a few of the fears every mom feels when she brings her second baby home.