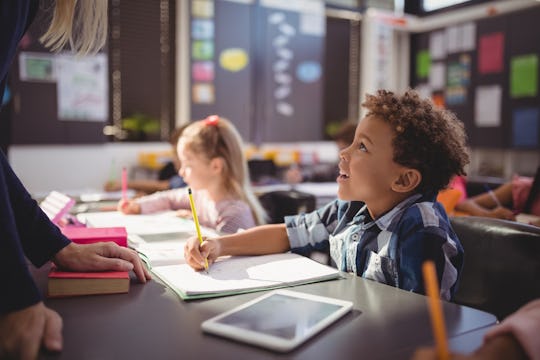 wavebreak3/Fotolia
Here's What To Ask Your Child's First Grade Teacher On Back-To-School Night
And we're off! The markers and marble notebooks have been unpacked, the first-day photos have been Instagrammed, and the first uneaten banana is turning brown and soft at the bottom of your child's backpack. Yes, we're back in the wonderful chaos of school with all that entails: PTA meetings, book fairs, fundraisers, and that evening where teachers and parents first come face-to-face. You probably already have a hundred issues whirling in your mind already, but there are some important questions to ask your child's first grade teacher on back-to-school night.
Not to be confused with parent-teacher conferences (which come just before the end of each marking period), back-to-school night is a less formal introduction to your child's homeroom and other teachers. You'll get an overview of what units will be covered in language arts, math, science, and social studies, and perhaps a breakdown of how grades are determined (some teachers put more weight on homework or class participation than on tests). The teacher may outline their expectations for the students, such as coming to class on time and with their necessary supplies.
Then once the teachers have had their say, the floor is open to parents. That's your opportunity to get answers to the questions that will help ensure a successful year for everyone. Here are some to jot down and bring with you on back-to-school night.