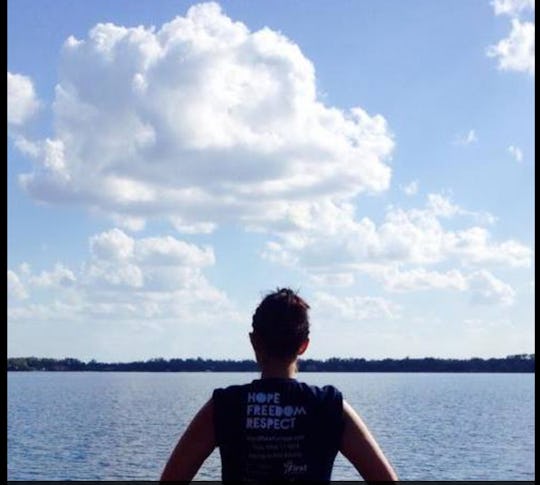 Courtesy of Candace Ganger
8 Surprising Sources Of Support I Found After I Miscarried
I still remember it like it was yesterday. On the week of Sept. 29, 2009, I was elated to discover I was pregnant with my second child after only a few months of trying. Then, on my first prenatal visit a couple days later, that excitement ended abruptly when the doctor told me the baby I had dreamed about didn't have a heartbeat. While devastated, there were some surprising sources of support I found after my miscarriage that helped lift me up when all I wanted to do was cry in a ball on the floor, forever.
It's hard to explain the feelings I went through after that life-changing visit. Even though I wasn't far along in my pregnancy, the loss hurt. How could my body do this to me? My husband and I had spent so much time healing from my previous postpartum depression, then planning to expand our family once I was well enough, so the weight of this news crushed me. That day, as I sat draped in the paper thin gown, the only words that hung heavily in front of me were about "the tissue." My doctor, though a kind and compassionate man, refused to say the word "baby," and it was a baby. My baby.
I never expected something like a miscarriage to happen to me (who does?), so my confusion and grief controlled my life for weeks after I left that doctor's office. Going from talking about names to suddenly scheduling a D&C to remove "the tissue" made me feel like I wasn't in my body. Instead, I was watching this all play out from the outside.
While I'd go on to suffer another loss, struggled through fertility and health issues, and eventually bring my healthy baby boy into the world in late 2011, I still think of this first loss like it just happened. My first miscarriage has never really disappear from memory. Instead, it sunk into my bones, forever becoming a part of every move I make. Goodbyes aren't something I'm good at and I suppose, in a way, talking about my miscarriage is another way of hanging on and remembering a life not granted. It's my way of remembering my child. So, with that in mind, here are just a few surprising sources of support I leaned on, and continued to lean on, after my miscarriage: