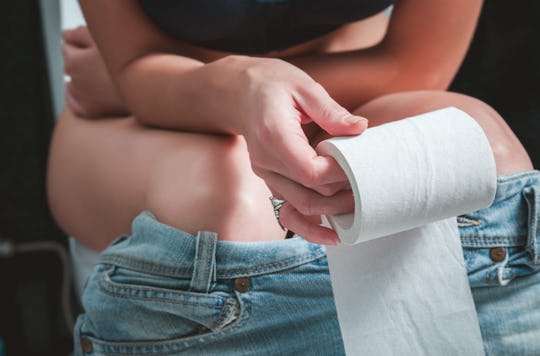 gmstockstudio/Fotolia
9 Reasons Your First Post-Birth Poop Will Be More Painful Than Labor & Delivery
Before I had kids, I didn't know I needed to worry about my first postpartum poop. I certainly didn't expect it to be painful. No one warned me, you guys. My postpartum nurse told me to use numbing spray on my stitches while I peed, but she didn't say anything about pooping being painful. So I was totally unprepared for the experience. I learned, the hard way, that there are so many reasons your first postpartum poop will be more painful than childbirth and you don't even get a baby to snuggle afterwards.
When I had my first postpartum pooping experience, it didn't occur to me that it would hurt so goddamn much. So, in the midst of my ignorance, I didn't do anything to help move things along or bring any reinforcements with me — like take stool softeners or bring the numbing spray they gave me for my stitches. It hurt so much that I secretly wished I had filled the prescription for pain medication that my midwife prescribed prior to taking that horrifying trip to the bathroom. I didn't need them for my labia or perineum, but pooping? Yeah, that was another story, because it was almost as bad as vaginal childbirth. Worse, if you think about it, because there are no epidurals or support people for postpartum pooping. It's just you and the toilet, my friend.
After the first post-birth bathroom experience, I knew how bad it was going to be, which actually might have made my anxiety about it worse. But I was able to make sure I remembered to take stool softeners to help things along and filled my prescription, just in case, so there is power in knowledge. Just trust me when I say that your first post-birth poop is the worst, possibly even worse than childbirth.