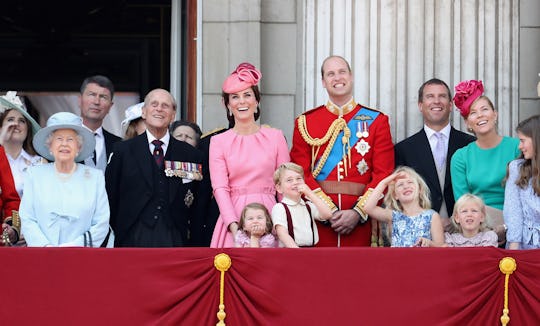 Chris Jackson/Getty Images Entertainment/Getty Images
9 Royals You Probably Haven't Heard Of, Because The Royal Family Is Huge
The day is almost here! In just a few short weeks, Prince Harry of Wales and the amazing American actor Meghan Markle will tie the knot, to the delightful squeals of fans everywhere. Their royal wedding is expected to be an extravagant affair with a long guest list that'll include a who's who of celebrities and royal family members. Of course, you can expect to see the Prince of Wales and the Duke and Duchess of Cambridge, but here are nine royals you probably haven't heard of who will most likely be in attendance.
Many people don't realize that the British royal family is actually quite large. There are more than a dozen people in the royal family tree the who support Queen Elizabeth II in her various public duties, according to the royal family's official website. There is also a whole host of immediate family members who are not using a royal style, including grandchildren, spouses, nieces, nephews, and deceased relatives, as listed by the Lord Chamberlain's Office, the department within the British royal household responsible for organizing ceremonial and public events.
Read on to learn more about those members of the British royal family who aren't in the spotlight often. They're as, if not more, interesting than the royals you know and love.
The Duke Of York
Prince Andrew, Duke of York, is Queen Elizabeth II and Prince Philip's third child and second son, and sixth in line to the throne. As a full-time working royal family member, the Duke of York takes on public work focused on business, innovation, and the economy, according to his official website.
The Earl And Countess Of Wessex
Prince Edward, Earl of Wessex is Queen Elizabeth and Prince Phillip's youngest child. Alongside his wife, Sophie, Countess of Wessex, Prince Edward supports a number of different charities, including ones focused towards enhancing opportunities for youth, according to the royal family's official website. The Countess of Wessex works as a patron of over 70 charities and organizations, some of which support agriculture, fashion, and people with disabilities.
The Princess Royal
Anne, the Princess Royal, is Queen Elizabeth and Prince Phillip's only daughter. She was once second in line to the throne, but will soon drop to 13th in line after the Duchess of Cambridge gives birth, according to Town & Country. The Princess Royal is a busy full-time working member of the royal family, and has been involved in more than 300 different charities, Town & Country reported.
The Duke And Duchess of Gloucester
Queen Elizabeth II's cousin, Prince Richard, Duke of Gloucester, and his wife, Birgitte, Duchess of Gloucester, are full-time working royals who support a total of more than 200 charities and organizations, and attend hundreds of national and international events, according to the royal family's official website. The Duke of Gloucester is involved with groups that deal with international humanitarian issues, heritage and the built environment (which oversees the preservation of cathedrals and cemeteries, for example), and military veterans, while the Duchess of Gloucester focuses on the arts, the military, sports, health, welfare, and education.
Princess Alexandra
Princess Alexandra is cousin to Queen Elizabeth II and another working member of the British royal family. She serves as joint-president of Cancer Research UK, along with the Duke of Gloucester, and was a patron of the Cystic Fibrosis Trust for more than 45 years, according to the royal family's official website. Although Princess Alexandra has a wide range of charitable interests, her main focuses are mental health care, palliative care, and international aid. She has also been a patron for charities focused on Alzheimer's, visual impairment, youth development, and food justice.
The Duke And Duchess Of Kent
Prince Edward, Duke of Kent, and Katharine, Duchess of Kent, are an interesting royal couple, to say the least. The Duke of Kent, Queen Elizabeth II's first cousin, and his wife have reportedly been estranged for years, but reunited in 2013, according to The Daily Express. They are involved in a lot of charity work, respectively; the Duchess of Kent focuses on music, while the Duke of Kent supports a wide range of topics, including commemorating the war dead, and fostering the development of British technology and industry, according to the royal family's official website. Prince Edward, who has served as vice chairman of the Overseas Trade Board, has also taken over 60 trips to Europe, Japan, Australia, and the Middle East, among other nations, to advocate for British trade and exports.
So, there you have it: Nine royals who you've probably never heard of, but are now familiar with. Now, go, impress your friends with this new knowledge of the British royal family.