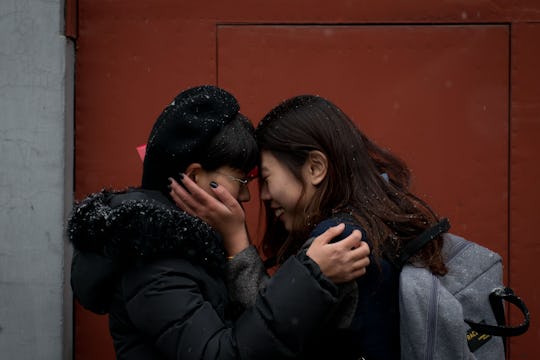 ED JONES/AFP/Getty Images
9 Things Feminist Moms Refuse To Say To Their Kids About Sex
Let's face it: feminist moms are changing the game. Not only do feminist moms teach their children body positivity, are quick to bend gender binaries, and would never even think about subtly slut-shaming their children (all of which essentially changes the types of conversations parents have with their kids), they're also changing what parents do not say to their children. What's considered "normal" parent-kid rhetoric is evolving. Feminist mothers are more inclusive, more open-minded, and definitely more aware of how past parenting decisions have negatively influenced children.
A conversation parents and children are having that has no doubt changed substantially, is the "sex talk." What once struck fear into the hearts of parents the world over is now considered, by so many more parents, to be nothing more than a wonderful opportunity to educate children on safe, consensual sex within a context that lays the early groundwork for a more complex, open-ended concept of sexuality. Feminist mothers especially do not see the sex talk as a scary foray into devious sexual behavior. They see it as a necessary talk that will ensure that when their kid starts to be sexually active, they will do so safely and consensually, and with a sex-positive, body-positive mindset. I mean, ideally. We're obviously not the only forces acting on how our kids feel about themselves and their bodies and sex, but like, we're fighting the good fight.
Feminist mothers don't believe in controlling their kids' bodies. We don't believe in striking fear and terror into kids, using abstinence-only sex education, or boatloads of misinformation to try and sway young adults into prolonging sexual activity. That's just not the name of the feminist game. So, with that in mind, here are nine things feminist moms refuse to say to their children about sex.