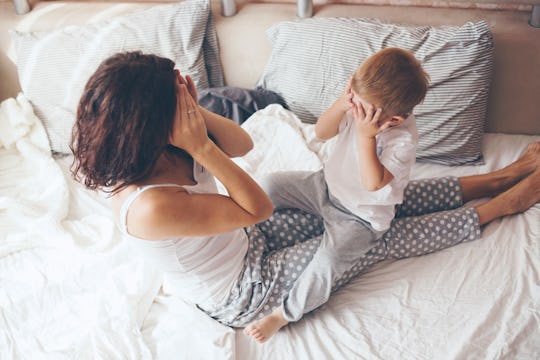 Alena Ozerova/Fotolia
9 Things Moms Raising Sons Who Will Take Responsibility For Their Actions Never Do
The other day, while my son and daughter were playing, I watched my 6-year-old boy slam his sister's head against the wall. I could tell it wasn't malicious and that he wasn't trying to hurt her, but it was absolutely intentional. The fact that he wasn't aiming to do harm didn't change the fact that he did, and he quickly understood the consequence of his actions (aided, no doubt, by my fiery stare). "It was an accident!" he cried, but I'm raising a son to take responsibility for his actions, and that wasn't going to fly.
"It wasn't an accident," I said sternly. "You just didn't think it through."
"But I didn't mean to hurt her! It was an accident!" he protested.
I could tell he felt bad, and his claiming no responsibility was as much trying to get out of trouble and as it was trying to assuage his guilt. While I was glad that he felt remorse, that wasn't enough. I pushed him on it.
"You didn't mean to hurt her," I said gently. "But you did. Your actions hurt her and you need to say sorry and see what she needs from you to feel better."
I'd like to say all of this was a straight-forward, well-learned lesson in personal responsibility that ended tidily. It didn't, because this is real life and children are hard, especially when they're feeling simultaneously wronged and guilty. My son was miffed for the next 15 minutes but, ultimately, I believed he learned what I was trying to teach him: just because you didn't want to cause harm doesn't mean that isn't exactly what you did. I think that's an important thing for all people to internalize, but perhaps especially our sons.
Yeah, yeah, #NotAllMen, but we live in a world where, too often, men are never asked to fully reckon with the ways in which their actions cause harm, and women are asked to be held accountable for the behaviors of men associated with them. I cannot have my sweet son be a part of that system. As such, my partner and I are raising him to understand that he is responsible for himself, so here are things we never do: