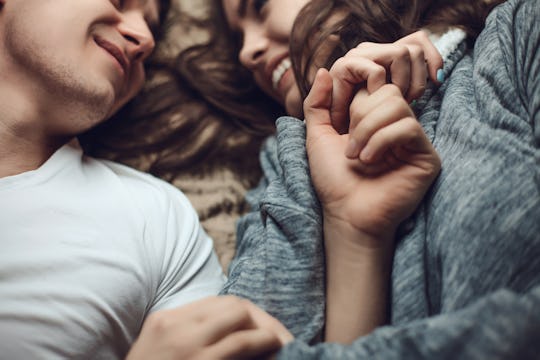 Fotolia
9 Ways Every Grown-Ass Man Helps When You're Trying To Conceive (Besides The Obvious)
Much to the dismay of the moms among us who hate pregnancy, storks do not make or deliver babies. That task is left to humans, though fortunately for most of us, that task is usually sex and, when done right, sex is awesome. While most of the information on trying to conceive (TTC) is geared toward women who want to get pregnant, men have an important role to play in this process (besides the obvious, hopefully fun part). There are plenty of ways men should help when trying to conceive, that any grown-ass man makes sure to keep track of when he and his partner decide to become parents.
Of course, not everyone who is trying to get pregnant is in a relationship or partnered with a man. However, for the majority of folks who are, ensuring dudes know how to contribute to this process — beyond being awesome, sex-positive sex partners — is really important. For one, there's more to achieving and maintaining a pregnancy than just making sure mom is healthy; dad's health matters, too. Furthermore, while most people can conceive the "old-fashioned" way, many folks can't or won't, so it's better for everyone involved if they understand upfront that they may need to be emotionally and mentally prepared for more than just having lots of unprotected sex.
So, in the interests of helping aspiring dads know what they can do to be the best possible partners they can in this process, or just helping prospective moms know what basic stuff they should expect in a partner while trying to make a baby, here's how good dads-to-be make sure to help when trying to conceive.