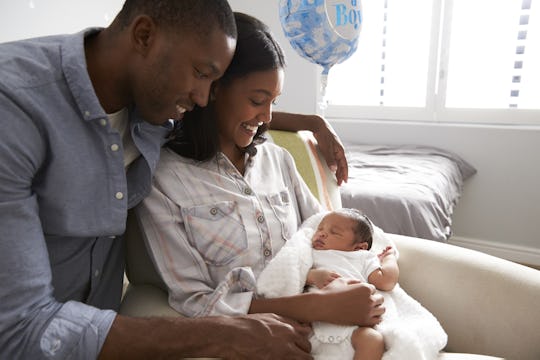 Monkey Business/Fotolia
9 Ways My Partner Made Me Feel Confident During My 1st Month As A New Mom
My partner truly is my best friend. Long before our love morphed into the beautifully deep connection we now share, we've relied heavily on the foundation built by friendship. We laugh a lot, problem-solve together, and enjoy being with one another even when the world feels out of control. We're not perfect by any means, and we definitely have a lot to work on, but I've got his back and I know he's got mine. Which is why I wasn't surprised when my partner made me feel confident during my first month as a new mom. Honestly, I couldn't have done it without him. Well, OK so I probably could have, but I definitely wouldn't have wanted to.
Since neither one of us had been parents before, my partner and I set out on this terrifying journey completely clueless together. We didn't know what to expect, or how to handle every bump that surfaced, but having each other to lean on definitely reinforced my self-esteem on numerous occasions and especially when I started to feel insecure. For example, my pregnancy was draining. I had "morning" sickness all day, everyday, and I developed pregnancy-induced hypertension that created elephant trunks where my feet should've been. Still, my partner was there to encourage me, support me, and tell me those elephant trunks were damn sexy.
Aside from physical pregnancy symptoms, we also had a wide variety of reactions to our pregnancy announcement that really forced us to lean on one another. Some people were thrilled, while others were, well, not so much. It was a lot to take one so early in our relationship (and we weren't much older than babies, ourselves), but we somehow managed to figure things out as they came our way, working as a team every step of the way.
After the birth of our amazing daughter, my partner and I stumbled and fell through life as brand new parents more times than I can count. Taking care of another human being entirely dependent on us was harder than we imagined, to be sure, but my partner was still the person I could run to every time I felt like a complete and utter failure. So with that in mind, here are just some of the ways he made me feel confident, strong, and capable of being the mother he knew I could be: