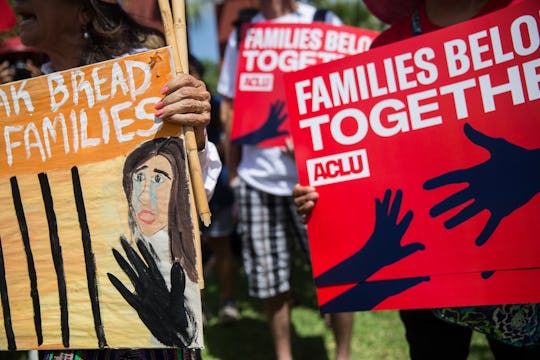 Tamir Kalifa/Getty Images News/Getty Images
A 6 Year Old Raised Money For Separated Families With This *Great* Idea
It's hard not to be heartbroken after reading recent headlines about families being separated at the United States and Mexico border. After reports about Trump's zero-tolerance immigration policy became widespread knowledge, people from all ages and backgrounds came together to act on it — including the younger generation. Because of this, people will be delighted to know that a 6-year-old helped raise $13,000 for separated families, which proves that there is hope for our future.
There are so many people who are doing what they can to help these separated families. For example, celebrities like Chrissy Teigen and John Legend, who announced that they were donating over $200,000 to the ACLU to help reunite families, according to USA Today, or George and Amal Clooney who donated $100,000 to the Young Center For Immigrant Children's Rights, according to People. But every day people have done just as much — one family in California raised over millions of dollars on Facebook to RAICES, according to CNN. And one 6-year-old boy in Atlanta, Georgia, aimed to do the same in his own virtual and physical lemonade stand, according to TODAY.
6-year-old Austin Gaggero suggested hosting a lemonade stand in his neighborhood to help raise money for immigrant children and separated families, according to TODAY, but he didn't know how many people it would reach. With the help of a virtual lemonade stand fundraiser on Facebook and the actual lemonade stand in his hometown, the boy was able to raise more than $13,000 to RAICES, a Texas non-profit that "offers free and low-cost legal services to immigrants and refugees", according to CNN.
This is incredible and proves what a young mind can do when they set out to accomplish something so big. But like most kids with big hearts and even bigger imaginations, they have their mother to thank — and Austin is no exception to this.
Austin's mom, Shannon Cofrin Gaggero, told TODAY that the idea was planted after she told her kids what was going on at the border. Cofrin Gaggero said, according TODAY:
I've been taught that when you talk about oppression, it is just as important to talk about resistance, so I asked my kids, "What can we do to help?" and my 6-year-old son, Austin, suggested a lemonade stand.
In addition to selling lemonade, Austin, along with Cofrin Gaggero's 3-year-old daughter, Reese, and their family and friends sold brownies and decorated posters so the stand's patrons knew why they started the stand in the first place, according to TODAY.
Lemonade stands are a tried and true way for kids to learn what it's like to start a business of their own (even if it's on a smaller scale) and experience what it feels like to make a hard earned dollar of their own. But, instead of keeping the profits and spending the money on something like a video game or toy, Cofrin Gaggero's son and 3-year-old daughter put the money towards a worthy cause, according to CBS News. Cofrin Gaggero was proud of all that her son was able to accomplish with his idea, writing on her blog, Striving Parent:
As I have shared again and again, action breeds hope. I'm so proud of my kids and our community for being a part of a beautiful action this week and weekend. I'm proud of the parents who shared with me the conversations they had with their kids about why we were gathering.
Until every child is reunited with their parents there is still so much more that needs to be done and so much more money that needs to be donated in the fight to getting these families back together.
This weekend, people all across the the United States will participate in Families Belong Together rallies, aiming at telling politicians to do something about the separated families. If parents and their kids can't make it out to the rally but want to take an action towards getting families back together, a lemonade stand is a great place to start. This 6-year-old boy proved that it is possible to do some good in the world with the resources you have.