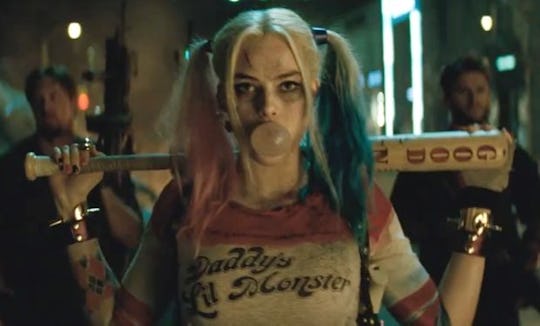 Warner Bros.
A 'Harley Quinn' Spin-Off Needs These 5 Female Superheroes To Join Her Forces
This year's would-be summer blockbuster Suicide Squad wound up something of a bust. While some viewers (particularly, die-hard DC Comics fans) did enjoy the supervillain team-up flick, it was near-universally panned by critics for a hodgepodge of issues, like the muddled plotting, poor character development, terrible villain, and its eyebrow-raising treatment of the Harley Quinn/Joker relationship. Many agreed that the highlight of the film was Margot Robbie's portrayal of the demented villainess Harley Quinn; clearly, studio heads recognized that too, because that spin-off is on its way. But what other female heroes will be in the Harley Quinn spin-off?
The new spin-off was officially confirmed as a movie on Warner Bros.' roster yesterday, via an exclusive report by The Hollywood Reporter. The upcoming super villain flick was a part of Robbie's "first-look" deal at Warner Bros., an agreement that she would take any projects that she was looking to develop via her production company, LuckyChap Entertainment, to Warner Bros. first.
Interestingly, the spin-off film was already in development before Suicide Squad even came out, but the new movie didn't follow the typical path that most movie spin-offs seem to take – i.e., when the studio realizes that fans love one particular character and decide to run with him or her. The Hollywood Reporter broke the news back in May, and a source confirmed at the time that Robbie herself was actually the impetus for the spin-off. According to that unnamed source, Robbie, who gets deep into character work for her film roles, fell in love with Harley while researching the role and reading the comics. But it wasn't just the Joker's girlfriend who captivated Robbie – she also allegedly fell in love with DC's impressive roster of female characters.
If this ends up being a reality, it would be amazing news and would totally set DC's cinematic universe apart from Marvel's, which has notoriously been lagging way behind in terms of female representation in their superhero films – Black Widow and, more recently, the Scarlet Witch are the only two major female superheroes of the MCU. DC already has the Wonder Woman solo film due out next year, and a Harley Quinn-centric female-driven hero/villain ensemble project would be historic and ground-breaking. Plus, it would also be damn entertaining, because there are so many great DC female heroes to choose from.
Poison Ivy
The deadly villainess is the most obvious choice to be included in any Harley Quinn film. In some recent comic book incarnations, Harley and Ivy are actually in a romantic relationship. Knowing absolutely nothing about the spin-off, I can already basically guarantee that watching Harley/Ivy would be far better than a Harley/Joker rehash.
Wonder Woman
The Amazonian goddess has already debuted onscreen in Batman v. Superman, in the form of Gal Gadot. Gadot is also starring in that hero's solo film next year. We already saw Batman himself make a significant cameo appearance in Suicide Squad, so what's to stop Wonder Woman from mixing it up with Harley Quinn?
Catwoman
Part woman, part cat, this DC character is particularly interesting in that she's been both a supervillain and an antiheroine in various adaptations. We've already seen Michelle Pfeiffer, Halle Berry, and Anne Hathaway pick up the cat-mantle in three very, um, different interpretations of the character. A morally complex DC character like Catwoman would be great paired with Harley Quinn.
Supergirl
Melissa Benoist probably wouldn't bring her version of Kara Danvers to the big screen, but Superman's cousin would be a shining beacon of light and goodness in opposition to Harley Quinn's darkness.
Black Canary
Again, doubtful that either Katie Cassidy or Caity Lotz would make the jump from Arrow and other DC-verse television shows over to the distinctly separate film universe, but it was already rumored last year that DC was potentially looking to cast an actress to play Black Canary in DC's upcoming answer to The Avengers, Justice League.
Any way you slice it, a female character-heavy Harley Quinn spin-off can only be a good thing – and I, for one, can't wait for it to hit theaters!