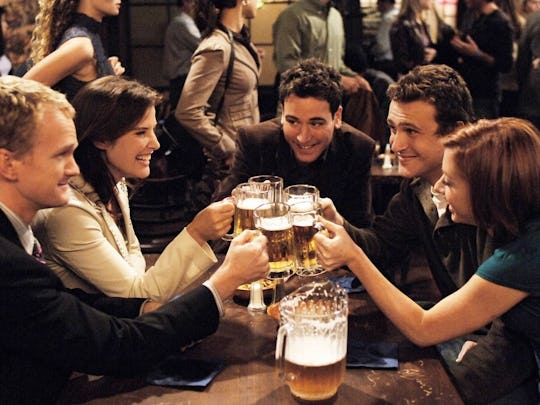 CBS
A 'How I Met Your Mother' Spinoff Is In The Works, & It Will Be Woman-Centric
It's been over two and a half years since How I Met Your Mother aired its divisive series finale. Since then, no new natural successor to the tried and true goofy-group-of-friends-hanging-out-regularly sitcom has risen to take its place. Sure, The Big Bang Theory is still on the air, but that show doesn't come close to filling the specific Friends-type comedy hole in our lives the way HIMYM did for a whopping nine seasons. But now, a new hit sitcom might finally be on its way: a How I Met Your Mother spinoff series is in the works once again.
The prospective series is titled How I Met Your Father, and there's a lot that's exciting about this news. Deadline, who first reported the spinoff news, described it as "an ensemble show that tells the story from a female point of view" and "a brand new take on the premise with new characters and new writers." If you'd gotten your hopes up that we'd see a return to our beloved quintet of friends from the original, perhaps in the years before the finally-introduced Mother was unceremoniously killed off as depicted in the finale, sorry to disappoint – the spinoff won't be focused on Ted, Robin, Marshall, Lily, Barney, or Tracy the "Mother."
The new series is firmly in the very earliest stages of development. Deadline reported hearing that it was "still being written as a spec internally at 20th TV [HIMYM's studio]" and had yet to even hit the marketplace, meaning that it won't necessarily go to CBS, if it does indeed move forward into production. But, given past HIMYM spinoff attempts, we have some idea of what the show would be. Specifically, it's How I Met Your Dad: Take Two.
How I Met Your Dad was the massively successful original series' first attempt at a spinoff, ordered as a pilot by CBS in late 2013, just months before HIMYM came to an end. How I Met Your Dad was created by the HIMYM's creators, Craig Thomas and Carter Bays, and starred Greta Gerwig as "Sally" (the Ted of the spinoff). A pilot was filmed and shown at upfronts in 2014, with CBS surprisingly passing on picking it up. The pilot was never re-shot at CBS and no other networks picked up the existing pilot, so ultimately, the project died.
It's unclear what, exactly, the issues were with the How I Met Your Dad pilot, but you can read the pilot script online in its entirety and decide for yourself whether it was incurably bad and needed the massive retooling it's now getting nearly three years later.
This new attempt at a woman-centric spin-off will have an entirely new team behind it. This Is Us co-executive producers and writers Isaac Aptaker and Elizabeth Berger will be working on the project for 20th TV, where Aptaker and Berger have an overall deal. This is exciting news because This Is Us has emerged as one of the breakout hits of the 2016-17 television season – How I Met Your Father is definitely in capable hands. It's doubly exciting that there will be a woman in the lead role, with an entire show crafted around her story. It's 2016, and somehow that's still an unfortunate rarity.
At the absolute least, How I Met Your Father already has one distinct advantage over its spinoff predecessor: they rectified that annoying Dad/Mother title inequivalence.