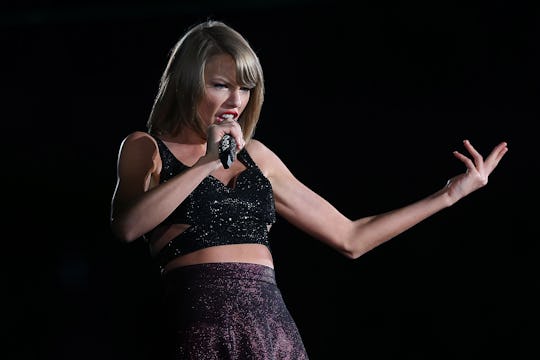 A Taylor Swift '1989' Concert Film Is Happening, So Christmas Came Early For Swifties Everywhere
O come, all ye Swifties: In celebration of her own birthday, Taylor Swift announced a 1989 World Tour LIVE film, and dropped the trailer on Twitter. Boom. God bless a woman who is feelin' herself so hard that she gives her fans the gift of her on her own birthday. This glorious gift is going to bless the world with its full-length presence on December 20 via Apple Music, which means fans will have to wait a mere (OK, excruciatingly long and honestly quite brutal) week before immediately canceling the rest of their lives to watch it multiple times. (No, I'm not mocking you, Swifties. I value my physical safety far too much to ever poke you guys when you're in the middle of a high-anxiety "waiting for Tay to drop something new" phase.)
1989 World Tour LIVE was filmed at ANZ Stadium in Sydney, Australia back on November 28, covering a performance that was witnessed in person by 76,000 fans. It was an especially guest star-filled show — John Legend, Mary J. Blige, Alanis Morrissette, Miranda Lambert, and about 47 billion other famous people joined Swift onstage throughout the evening — which, to be fair, should've tipped us off that it was probably being immortalized on film.
The concert film will also cover ~never before seen~ backstage footage and probably lots of Taylor Swift being awkward and relatable before going out on stage and owning the world. I know it keeps sounding like I'm making fun of her but I'm really, genuinely excited about this, I swear. I probably haven't processed some residual self-loathing about how much I love 1989. It's cool. That's my issue to deal with.
I'll leave you alone to watch this trailer over and over now. Godspeed.
Images: Graham Denholm/Stringer