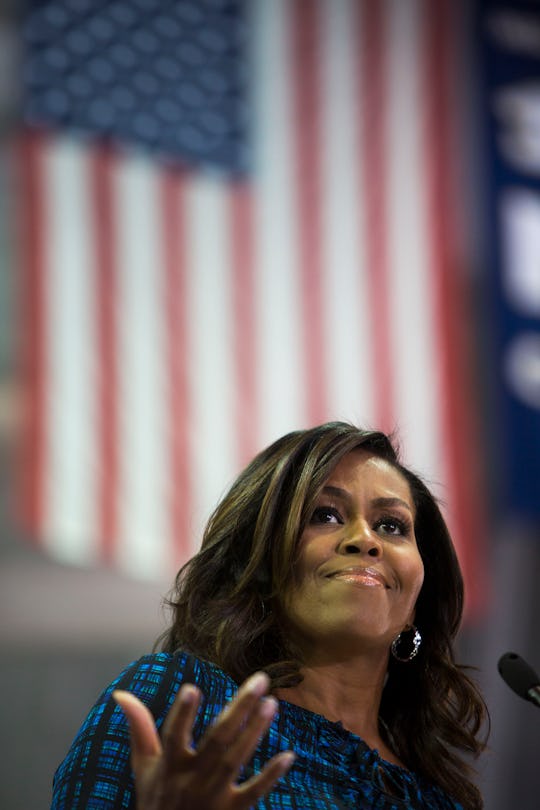 Jessica Kourkounis/Getty Images News/Getty Images
A Teacher Was Fired For Comments About Michelle Obama, & It Shows Racism's Pervasiveness
In a happy ending to an awful story, a Georgia teacher was fired for racist comments about Michelle Obama on Monday. On her now-disabled Facebook page on Thursday night, Chestatee Elementary School paraprofessional Jane Wood Allen allegedly shared a link to an article about the first lady from an extreme right wing hoax website, along with a caption referring to Obama as a "gorilla" and criticizing her appearance (Romper's attempts to reach Allen for comment were unsuccessful).
On Friday morning, Facebook user Roni Dean-Burren shared a screenshot of the post, tagging the school district and asking, "Is that who you want teaching your kids?" Just a day later, according to The Atlanta Journal-Constitution, the post had been shared more than 3,700 times, and Forsyth County Schools spokeswoman Jennifer Caracciolo provided the paper with a statement assuring that "We have and will continue to address this issue with the employee on Monday." In a subsequent statement provided to Atlanta's CBS 46, school officials said, "Effective Monday, October 3, 2016, Jane Wood Allen has been relieved from duty and is no longer an employee of Forsyth County Schools. Racism and discrimination are not tolerated in our school district. We are committed to ongoing staff training on the acceptance of all individuals. As this is a personnel matter, the district will provide no further comment."
It's admirable how quickly the Forsyth County Schools dealt with the issue (Allen has already been removed from Chestatee Elementary's online staff directory), but still, it would have been preferable if someone who called the first lady a "disgrace" and thinks that Muslims have "no business in the USA" never had access to impressionable young kids in the first place. But how do we filter out people like this? Obviously, her social media accounts would have provided a clue, but what about those who don't use Facebook?
The sad truth is that racism is a lot more common than some think. As a white liberal growing up in an overwhelming white and liberal state, I'm still shocked every time a sign advocating for a certain presidential candidate shows up in my neighborhood. Living in my privileged bubble, I had no idea that "those types" were as common as they are. The fact is, racism is still alive and well throughout the country. It's up to all of us to call out the little things, or microaggressions, before it comes to this — before an educator thinks it's appropriate to liken the first lady to an animal.