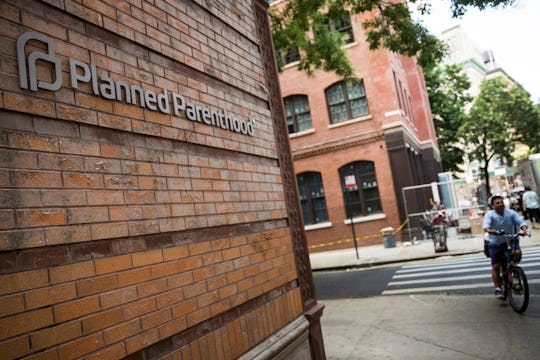 Andrew Burton/Getty Images News/Getty Images
Abortions Are At Their Lowest Rate Since 1974
Sunday marks the 44th anniversary of Roe v. Wade and for the first time in the 44 years since the landmark Supreme Court decision for women's reproductive choice, abortions are at their lowest rate since 1974. These findings were reported in a study by the Guttmacher Institute, a research and policy organization focused on sexual health and reproductive choice. It's an intriguing finding given the initial fear that, with wider access to abortions, more abortions would be performed — and yet, here we are with the lowest abortion rate in the nation since Roe v. Wade.
After Roe v. Wade in 1973, there were 16.3 abortions recorded for every 1,000 women aged 15 to 24. The abortion rate increased steadily to an all-time high in 1980-81, when the abortion rate peaked at 29.3 abortions. Since then, the abortion rate has steadily declined and has now dropped to 14.6 abortions per 1,000 women.
Abortion opponents have seen these findings as good news — and while low abortion rates are also favorable for reproductive choice advocates, the implications of the Guttmacher report aren't necessarily all that reassuring to long-term future access to abortions in the United States. One of the biggest implications from this report is not that fewer women are having abortions — rather, fewer women may have access to abortion providers.
It should be noted that the decline in the U.S. abortion rate isn't tied to a single factor. The Guttmacher report was clear to indicate that individual factors contributing to the decline were not directly studied. Still, these findings reveal that several issues — both political and medical, positive and negative — have impacted abortion in the United States since Roe v. Wade.
First, more women are taking advantage of birth control and other contraceptives preventing unwanted pregnancies in the first place. With the Food and Drug Administration's approval of mifepristone and misoprostol in 2000 — a combination of pills also known as RU486 used to induce a medication abortion — the need for in-office abortion procedures has also dropped over time.
That said, the Guttmacher report also highlights how the number of abortion providers in the United States has also been on the decline thanks in large part to the fact that anti-choice legislation is on the rise. In 2015, almost 400 anti-abortion bills were introduced across the United States, according to the Guttmacher Institute. As 2016 revealed, anti-choice legislators have taken particular aim at late-term abortions: 16 states ban late-term abortions outright, with no consideration for the life and the health of the mother. According to The Intercept, more than 60 new abortion restriction laws were passed in 19 states last year.
Thankfully, last year's landmark Supreme Court decision protecting abortion access in the case of Whole Woman's Health v. Hellerstedt has now set precedent to combat the growing number of TRAP laws — Targeted Regulation of Abortion Providers. These TRAP laws seek to chip away at abortion access by targeting abortion providers' hospital admitting privileges and other regulations that have no bearing in sound medical practice. TRAP laws are drafted solely to prevent women from getting access to medical care they need, rather than providing "safer abortions" as TRAP law proponents claim.
So where does the lowest abortion rate in 44 years leave us?
On Friday, a man who stated on camera that women deserve "some kind of punishment" for having abortions is set to be inaugurated as America's 45th president. On Saturday, hundreds of thousands of women will gather for the Women's March in Washington D.C. — and in hundreds of cities throughout the United States — to rally on the new president's first day in office and affirm that women's rights are human rights and that women across the globe will hold him accountable to that standard. And on Sunday, Roe v. Wade turns 44 and the 44th March for Life — an annual anti-abortion protest on Washington — will take place, with Trump's former campaign manager and new White House advisor Kellyanne Conway set to speak at the major anti-abortion event.
The fate of American women's reproductive choice faces precarious and challenging times, indeed — and the latest news about abortion rates in America proves we still have battles ahead of us to keep abortions safe and legal in this country.