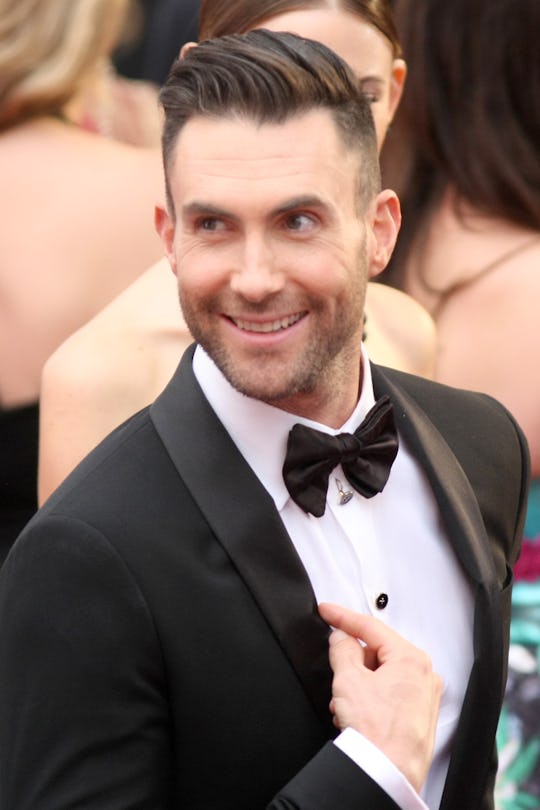 David McNew/Getty Images Entertainment/Getty Images
Adam Levine Says Fatherhood Is Beautiful & His Experience Is So Relatable
Even with nightly 2 a.m. wake up calls and dozens of dirty diapers to change, Maroon 5 frontman Adam Levine says fatherhood is a beautiful experience and he is completely smitten with his new daughter. During a recent interview for On Air with Ryan Seacrest, Levine opened up about parenting for the first time since he and his wife Behati Prinsloo welcomed their daughter, Dusty Rose, to the world on Sept. 21. And over these past three weeks, it seems like the new parents have been enjoying all of the perks and challenges that comes along with this exciting and new experience.
"I've been a parent for three weeks, what do I know?" The Voice coach told Seacrest on Thursday. "I don't know anything, but it's part of the beauty of it, honestly. There are a lot of instincts, a lot of things that kick in and switch on. It's a beautiful experience."
Levine's thoughts on fatherhood likely ring true for many other fellow many first-time parents — yet another reason why so many are swooning over the new dad.
Dusty is the first child for both Levine and Prinsloo, who got married in 2014 and were eager to start a family soon after they tied the knot. News broke that the they were expecting back in March and Levine was "over the moon" about becoming a father, according to Us Weekly.
Two weeks ago, Levine shared the first photo of his newborn daughter on Instagram. "Dusty Rose Levine 9/21/16," he captioned the black and white photo of his tiny baby girl sleeping on his tattooed chest.
While getting used to new parenting role, the proud dad has also been busy showing off his adorable daughter to friends and family, including his former co-host on The Voice, Gwen Stefani.
"Adam actually has been FaceTiming me all day because he just had his baby. She's so cute!" Stefani said in an interview with Ellen Degeneres last month.
Although the new dad admitted that he doesn't know exactly how to tackle this whole parenting thing, his plan from the start was to just "jump in" to it.
"We're just gonna jump in, and just try to figure it out," Levine said back in April during an interview with Live! With Kelly and Michael. "I'll probably be a lot more freaked out when I see the baby and I'm like, 'Oh, there's a baby now!'"
And while the new parents are completely infatuated with their new baby girl right now, a bigger family might be in the works.
"I want to have 100 kids," he told People in August 2014. "I want to have more kids than is socially responsible."