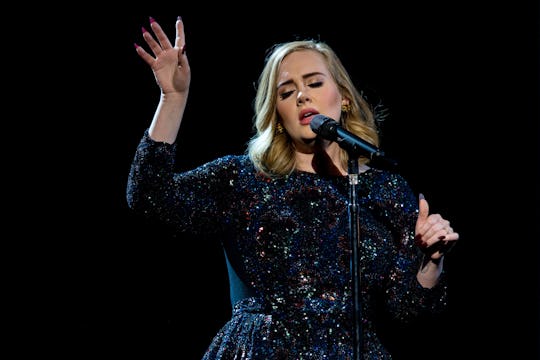 Philipp Schmidli/Getty Images Entertainment/Getty Images
Adele Announced She Is "Off To Have A Baby," & Fans Couldn't Be More Excited
After 107 concerts in 10 months spanning the UK, Europe, and the United States, British singer/songwriter Adele wrapped up the second leg of her world tour in Phoenix, Arizona, on Monday night. But before leaving the stage — where she had just performed such hits as "Hello," "Someone Like You," and "Rolling in the Deep," fans got another surprise when Adele announced she is "off to have a baby," more than four years after giving birth to her son, Angelo, with partner Simon Konecki in October 2012. She said, according to People:
Give it up for me — I did it! I'll see you on the other side. In a couple of years I'll be back. You won't be able to get rid of me.
Though Adele was a little short on the baby-making specifics, she's on hiatus for the next few months before heading to Australia and New Zealand in March to finish the final leg of her tour. In September, an unnamed insider told The Sun Adele had recently decided to take a 10-year break from touring following the conclusion of Adele Live 2016, after which she plans to focus on being a mom to Angelo and expanding her family:
Adele doesn't want to miss a moment of Angelo growing up and it's an easy decision for her to give up touring for him.
The source continued:
Angelo is the number one priority for Adele. He is the most important thing in her life. She has brought him everywhere with her on tour, but as he is starting school next year, he won't be able to join her any more. ... Right now she is saying she won't do another massive world tour like the current one for another 10 years.
If rumor has it (see what I did there?), it won't be the first time Adele took an extended sabbatical from the stage. Following the success of breakout album 21 in 2011, more than four years passed before Adele released follow-up album 25 — which notched the biggest first-week sales on record after selling 3.38 million copies in the United States, according to TIME. Approximately 10 million people attempted to purchase just 750,000 available tickets to her American tour, proving even a four-year delay can't slow demand for one of the greatest female vocalists of all time.
Following her surprise announcement onstage, Adele poured a champagne toast for members of her band, though she herself opted for white wine after admitting champagne "wreaks havoc with my acid reflux." Later on Instagram, she posted a photo of a homemade banner Angelo made to welcome her home after spending nearly a year on the road.
Shortly after 25's release, Adele opened up to TIME about how motherhood "made her feel more purposeful than ever."
He makes me so proud of myself, and he makes me like myself so much. And I've always liked myself. I've never not liked myself. I don't have hangups like that. But I'm so proud of myself that I made him in my belly. Cooked him in my belly and then he came out of me! This human who's suddenly walking around and doing his own thing. I can't wait to know who his best friends are going to be, who his girlfriend or his boyfriend is going to be or what movies he likes... Whatever my kid wants to do or be I will always support him no matter what.
Congratulations, Adele, on the tour, motherhood, and whatever else comes your way.